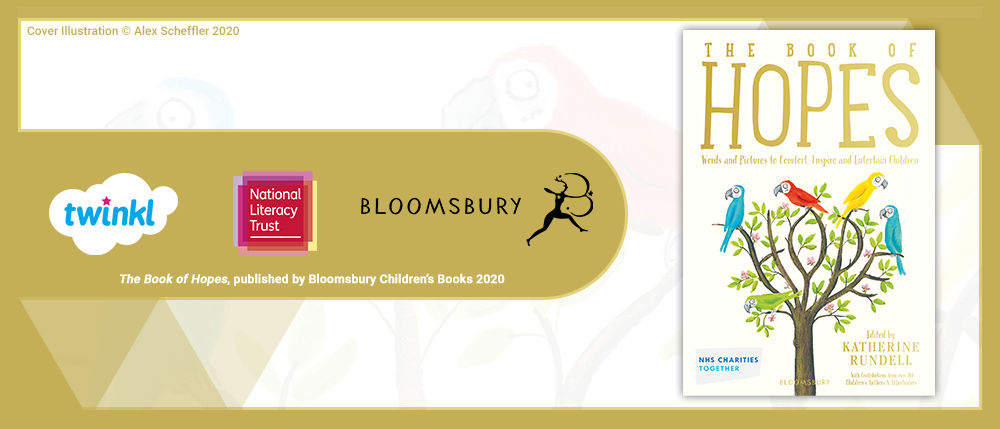 To support your school recovery curriculum we've partnered with Bloomsbury and Twinkl to develop resource packs based on the wonderful stories, poems and illustrations in The Book of Hopes: Words and Pictures to Comfort, Inspire and Entertain Children, edited by Katherine Rundell.
Resources include assembly presentations with accompanying teacher notes, as well as activities to engage pupils in speaking and listening, reading and writing. The packs are designed to help pupils settle in to the new environment at school, reconnecting with others and building confidence.
Resources include
An assembly plan focusing on building relationships when meeting new people based on The Creature in the Cave by Jenny McLachlan
An assembly plan about resilience based on The Hope-o-potamus by Greg James and Chris Smith
Reflection activities for coping with loss and change based on The Flyaway Kite by Catherine Doyle
Discussion and poetry prompts based on The Store Full of Magical Things by Rutendo Tavengerwei
Activities to help children find their voice and build confidence through poetry based on Me by Swapna Haddow
Whole-class guided reading and comprehension based on Murkaster by Frank Cottrell-Boyce
Picture activities for both Key Stage 1 and Key Stage 2 that support comprehension skills.
You can download each resource pack from the available files section of this page.
---
Find more wellbeing resources
Download files
You might also be interested in