School libraries face a chronic lack of investment, with the most disadvantaged communities most affected: 1 in 7 primary schools in England do not have a library and over three-quarters of a million children in the UK do not have access to books that we know enable better educational outcomes and greater well-being. There is no statutory requirement for schools to have a library.
Libraries for Primaries campaign
Founded in November 2021 by the National Literacy Trust and Penguin Random House UK, the Libraries for Primaries campaign (formerly the Primary School Library Alliance) is a group of organisations who work to address the lack of investment in primary school libraries.
By Spring 2024, we will have transformed 1,000 school libraries and trained over 2,000 teachers and support staff. The next phase of our campaign is to ensure that every primary school in the UK has a library or dedicated library space.
Read more about Libraries for Primaries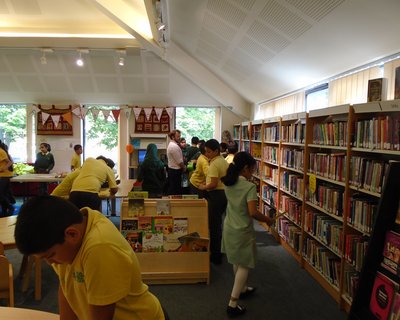 Programmes
Our evidence-based school library programmes provide the tools to help schools transform their reading spaces, and create connected communities of readers. Since the Primary School Library Alliance was convened in 2021 our programmes have been supported by a wide range of funders.
If you are interested in your school taking part in one of our libraries programmes, please email us.
Resources and training
Here you can find resources to help you audit and develop your reading for pleasure provision. For schools with National Literacy Trust membership we offer free online training that will help you improve your knowledge of children's books, create an effective reading environment, and engage the whole school community in reading for pleasure.
If your school isn't a subscribed member, find out more about National Literacy Trust membership.
School libraries research
Our research shows that school libraries have a positive impact on all areas of pupils' literacy and learning, and have never been needed more
Evidence from across the sector and submissions from teachers to give an idea of the current situation in primary school libraries; the benefits they bring to pupils and...

Learn more

We explored children and young people's use of school libraries and conducted a review of international research that has examined the potential impact of school library use.

Learn more

This paper from the National Literacy Trust and Nottingham Trent University explores how children on free school meals use their school library and how this links to their...

Learn more