Chase Rewarding Futures School Libraries Programme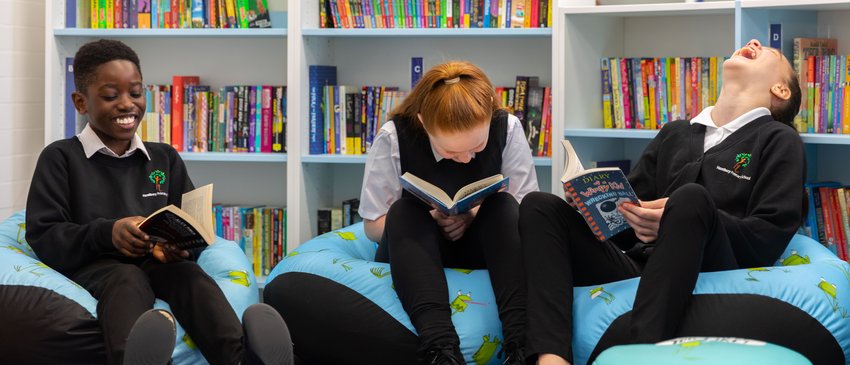 About the programme
The Chase Rewarding Futures School Libraries Programme is developed in partnership with Chase Bank, and Puffin (part of Penguin Random House). The programme equips primary schools with the books, materials, digital packages, resources, and training to build a reading for pleasure culture across the whole school community with the school library and reading spaces as the focal point.
In some areas there is also the opportunity to apply for a Flagship Library installation. In addition to the core programme, schools who are successful in applying for a Flagship Libray receive consultation, design and renovation of their school's library, transforming the space into a fun and welcoming environment at the heart of the school's reading community.

What participating schools get
400 free books

Diverse selection featuring favourite authors and exciting new voices from Puffin and from a variety of independent UK publishers

Training

Online training delivered by the National Literacy Trust to build knowledge around reading for pleasure, and an in-person event to expand your reading for pleasure network

Exciting resources

Including a Reading Zone of soft furnishings and shelving to enhance your library space, and colourful materials such as badges, bookmarks and posters

Audiobook player and audio titles

Help pupils access the magic of reading with screen-free audio book player, audiobooks and extras

Author events

Online and/or in-person access to high quality author events with current, popular and diverse authors to inspire reading and writing for pleasure

National Literacy Trust Support

A year of free membership providing access to resources and tools to support reading and literacy across the whole school, and regular Primary School Library Alliance newsletter

Take part in the programme
Each year we recruit primary schools to participate in the programme from a range of geographic areas across the UK, allowing participating schools to build a local reading for pleasure network.
For the school year of 2023/24 Chase Rewarding Futures School libraries is working in the following areas:
Bristol
Cardiff
Doncaster
Dundee
Edinburgh
Enfield
Manchester
Newport
Nottingham
Sheffield
Southampton
Southwark
Register your interest in the programme and any future opportunities by emailing us at primarylibrarytraining@literacytrust.org.uk.
If your area is not listed above you can find out about our other school libraries programmes here.