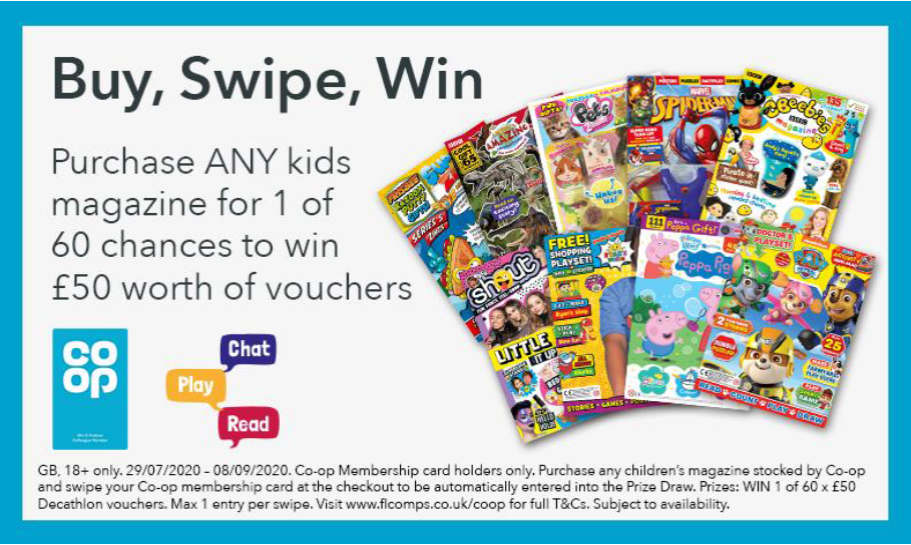 This summer, we joined forces with the Co-op and a number of key children's publishers (Egmont, Redan, Creature Media and Kennedy) to launch a children's magazine promotion to encourage families with young children to chat, play and read together at home.
Across all 2,490 Co-op stores in the UK, whenever a family with a Co-op membership card bought one of 83 children's magazines between 20 July and 8 September, they were entered into a competition for a chance to win Decathlon vouchers.
The promotion aimed to get more reading materials into homes across the UK to encourage children and families to chat, play and read together. While the majority of parents read with their child at home on a daily basis, over a third of parents with a child under five (36%) don't. Parents reading with their child for as little as 10 minutes a day can make a significant difference to the child's achievement levels in school and beyond.
Engaging with magazines gives children an opportunity to read along with a family member or enjoy being read to, chat about the stories and interesting articles inside and play the fun games and puzzles often included in these magazines – which all help to build their literacy skills.
The promotion was part of our work with the government's Hungry Little Minds campaign, which provides parents of 0-5 year olds with simple chat, play and read activities to help develop and improve young children's language and literacy skills at home.
As part of the promotion, all Co-op stores also displayed signage encouraging families to chat, play and read together at home, which customers will be able to spot in stores until International Literacy Day on 8 September.
At Egmont Magazines we are passionate about the role magazines play in literacy and learning. We fully support the Hungry Little Minds campaign – chat, play and read perfectly epitomise the magazine experience. It's wonderful that Co-op are using their role as a community retailer to promote the campaign and the value of children's magazines.

Siobhan Galvin, Commercial Director Egmont Magazines