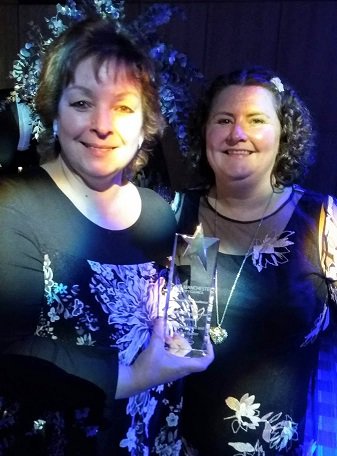 Representatives from the Read Manchester campaign have won a prize at this year's Manchester City Council Awards for Excellence.
Joanne Farrell and Janet Dexter, early years locality leads at Manchester City Council, took home the prize in the Working Together for Manchester category at the ceremony last Friday. Joanne and Janet were credited for their 'go get' attitude and never turning down an opportunity to improve the literacy opportunities for children in Manchester.
With only eight awards up for grabs at the event at the Hilton Hotel and a total of 7,000 Manchester City Council employees to choose winners from, there was extremely tough competition. Joanne and Janet were recognised for bringing the Dolly Parton Imagination Library book gifting programme to Gorton. Currently over 400 children receive free books through the post every month thanks to their fundraising efforts. The pair were also responsible for the fabulous Read Manchester bee which was designed and decorated with the help of local children's centres working in partnership with the Manchester Art Gallery.
Libraries and literacy projects stole the show at the awards, as two members of library staff at Manchester Central Library also won the Customer Focus Award.
Read Manchester strategic lead Elaine Morrison, said:
"We nominated Janet and Joanne as they are excellent locality leads. At Read Manchester, we are thrilled that they are being recognised for their pioneering work, which goes above and beyond their everyday work role. Language and early literacy skills is so vital for a child's development, and a key part of the Read Manchester campaign. Our reading campaign can only succeed with local champions like Janet and Joanne who develop ideas and partnerships to effect change."