In time for the summer holidays, we've teamed up with the Premier Inn as the UK's largest hotel company launches its newest bedtime story, free to guests staying at Premier Inn hotels. The launch also sees 7,000 copies donated to children who need literacy support most, in communities across the UK though our charity's Hub areas.
The bedtime story 'Wishing on a Star' was written and designed by Premier Inn to inspire customers with children to read more as part of Premier Inn's Force for Good programme.
Our research shows that children who enjoy reading are three times more likely to read above the level expected for their age as those who don't and it can also support their wellbeing and help them do better at school. However, 1 in 11 disadvantaged children in the UK say they don't own a book at all.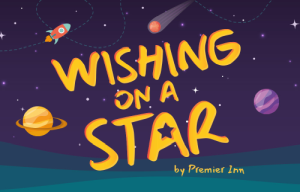 Premier Inn helps millions of people have a great night's sleep every year and understands that bedtime stories are a key part of helping children to unwind before bedtime.
The time taken to read stories provides a great opportunity for families to connect and spend time together, so they've create a bedtime story dedicated to helping children rest easy.
The limited edition story book will be given out to children staying at Premier Inn hotels who are aged 3-7, and to make the story available as widely as possible, a digital copy is available on the Premier Inn website at www.premierinn.com/story-time.
What's more, 7,000 free copies of 'Wishing on a Star' are being given out to children, schools and families through our Hubs, to provide access to vital reading materials to children who may not have many or even any books of their own at home.
We're so pleased to be partnering with Premier Inn on this special project. We know that reading, especially during recent lockdowns, helped children to dream about the future and supported their wellbeing. 'Wishing on a Star' by the team at Premier Inn takes children's imaginations beyond what they can see and into outer space, which is fantastic. It's brilliant that families who stay at Premier Inn hotels are able to read this story for free, and we're delighted to be able to extend access to this book to thousands of children across our Hub areas who may not have a book of their own. Sharing a story before bed can help make for a calm bedtime and settle a child and it's a daily opportunity to fill their minds with words as they drift off.

Jonathan Douglas CBE, Chief Executive of the National Literacy Trust