Our literacy work in Bradford has just received a £197,000 donation from the Morrisons Foundation, a charity set up by the supermarket. The grant will support a programme of activity to help boost literacy levels in Bradford, an initiative which has been active in the city since 2012. 
Over the past five years, 30 local partners have supported literacy in Bradford and we have worked with over 200 schools in the area. Key successes include the Our Stories poetry project, which was launched to engage pupils with low literacy, especially boys. Over the course of the programme, the percentage of Year 6 pupils reaching the expected level in writing increased from 46% to 92%, while their self-esteem and confidence also increased significantly.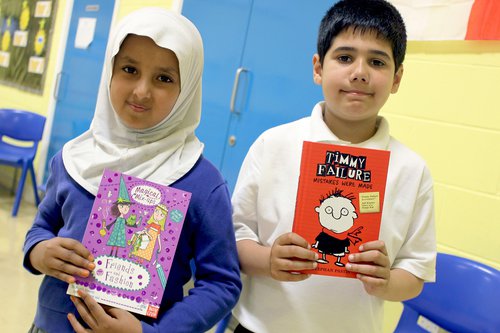 Neonatal work has also been a key success for the campaign. Working with Bradford Teaching Hospitals NHS Foundation Trust, neonatal charity Bliss and Boots Opticians, the campaign gave out 500 story packs to parents of premature babies. The packs included books for parents to read to their babies and tips and information on how communication can help development.

As it moves into a new phase, the campaign, which was previously known as the Bradford Literacy Campaign, will be rebranded as Bradford Stories. The new name celebrates the rich heritage of Bradford and highlights the importance of families, young people and different communities in the city sharing stories with one another.
Over the next year, the Bradford Stories campaign will focus on addressing literacy issues facing families in Bradford, including engaging dads and male carers in their children's learning and getting families reading with their children every day. The campaign will also highlight the benefits of bilingualism, and launch new initiatives targeting local schools and volunteers from the local community. 

To celebrate the new funding and campaign name, Bradford Stories is calling on all Bradford residents to snap a photo of their favourite place to share stories in the city, and post the picture on social media using the hashtag #BradfordStories. The best pictures will win prizes including book tokens.

Imran Hafeez, Manager of the Bradford Stories campaign, said: "We're absolutely delighted to have been awarded this funding from the Morrisons Foundation to continue our work to raise literacy levels in Bradford. Since launching the campaign, we've delivered lots of inspiring projects and achieved great results, but there is still more to be done to ensure every child in Bradford has the literacy skills they need to succeed. Our partnership work has been crucial to the success of the campaign to date - with this new funding we can expand this work further and reach more people across Bradford than ever!"

The Morrisons Foundation was set up by Morrisons supermarkets in 2015 and awards grants for charity projects which help to improve people's lives. Since launching over £15 million has been donated to hundreds of charities across England, Scotland and Wales.