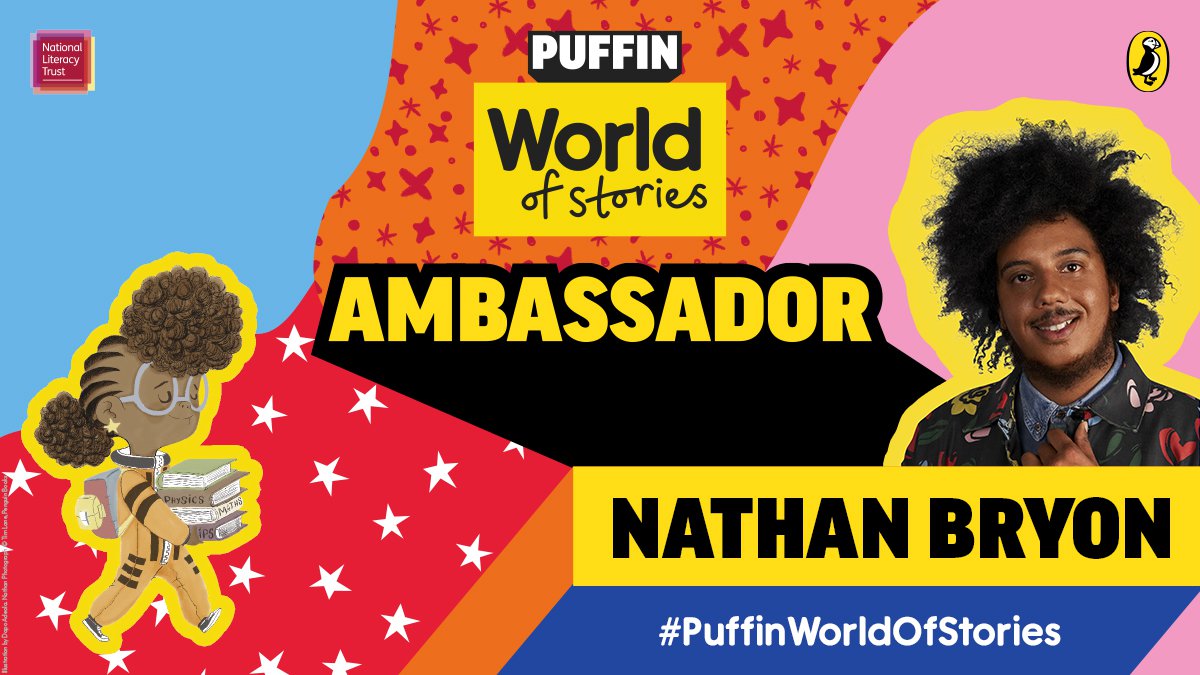 We are delighted that award-winning actor and author, Nathan Bryon, will become the first ambassador for Puffin World of Stories this year, helping us to highlight the importance of school libraries and diversity in schools' reading for pleasure strategies.
Our award-winning Puffin World of Stories programme is run in partnership with Penguin Random House UK and aims to address the lack of investment into primary school libraries. In fact, research from the Great School Libraries Survey 2019 suggests that 44% of schools serving the UK's most disadvantaged communities do not have a school library.
Now in its third year, we are very proud that Puffin World of Stories has reached over 56,000 pupils and donated 80,000 books to 225 schools across the UK to date, in areas local to its offices and warehouses in London and Essex, as well as areas of low literacy across the UK including Nottingham, Tyne & Wear, Middlesbrough and Gateshead.
The programme equips participating schools with the tools they need to develop their library or reading space as a hub of imagination and creativity, offering bespoke training and new books to boost teachers' knowledge of contemporary literature and reading for pleasure strategies, as well as increase use of the library among pupils.
Over the course of Nathan Bryon's ambassadorship, he will promote the importance of reading for pleasure to participating schools via virtual content and in-school visits, as well as interactive resources based on his books.
Bryon's debut picture book Look Up! created in collaboration with illustrator Dapo Adeola, who judged our Christmas card competition last year, recently won the Waterstones Children's Book Prize. We are so pleased that both Look Up!, and Bryon's most recent book Clean Up! will be included in the donation of 300 books to every participating school.
Bryon has announced the importance of diversity and representation in children's books as a key feature of his ambassadorship:
"As the inaugural ambassador, I've made it my mission to promote diversity in children's books. Reading was a problem for me when I was growing up. I am dyslexic and I have always needed to read and write at my own pace. But I also found it difficult to connect with the stories we had at school because they didn't reflect life as I knew it as. A book has the power to change anyone, so they must be available to everyone – with young people from all backgrounds able to feel excited and inspired by the characters they read about."
Our research found that more children and young people from minority ethnic backgrounds say that they don't see themselves in what they read (40% vs. 31% for white children). This was particularly true for Black children and young people.
The book donation offered by Puffin World of Stories includes a diverse line-up of titles, and the training includes support and ideas on how to embed diversity into the school's reading for pleasure strategy.
The launch of Bryon's ambassadorship comes at a time when UK students are returning to the classroom after a prolonged period of disruption to their education.
Our research with Puffin, published in July 2020, found that the lack of access to books, with schools and libraries closed, negatively affected some children's ability to read and their motivation to read for enjoyment.
It also found that the gap in reading enjoyment between boys and girls widened five-fold from 2.3 percentage points at the beginning of 2020 to 11.5 percentage points during the first lockdown. Reading for pleasure has been shown to improve reading attainment.
For more information, please visit: puffinworldofstories.co.uk