Pupils and teachers at Shirehampton Primary School in Bristol welcomed Her Majesty Queen Camilla today, Thursday 18 May, on Her Majesty's first solo engagement since the Coronation, to officially open their new school library, and the first in a series of 50 special primary school libraries to mark the 2023 Coronation.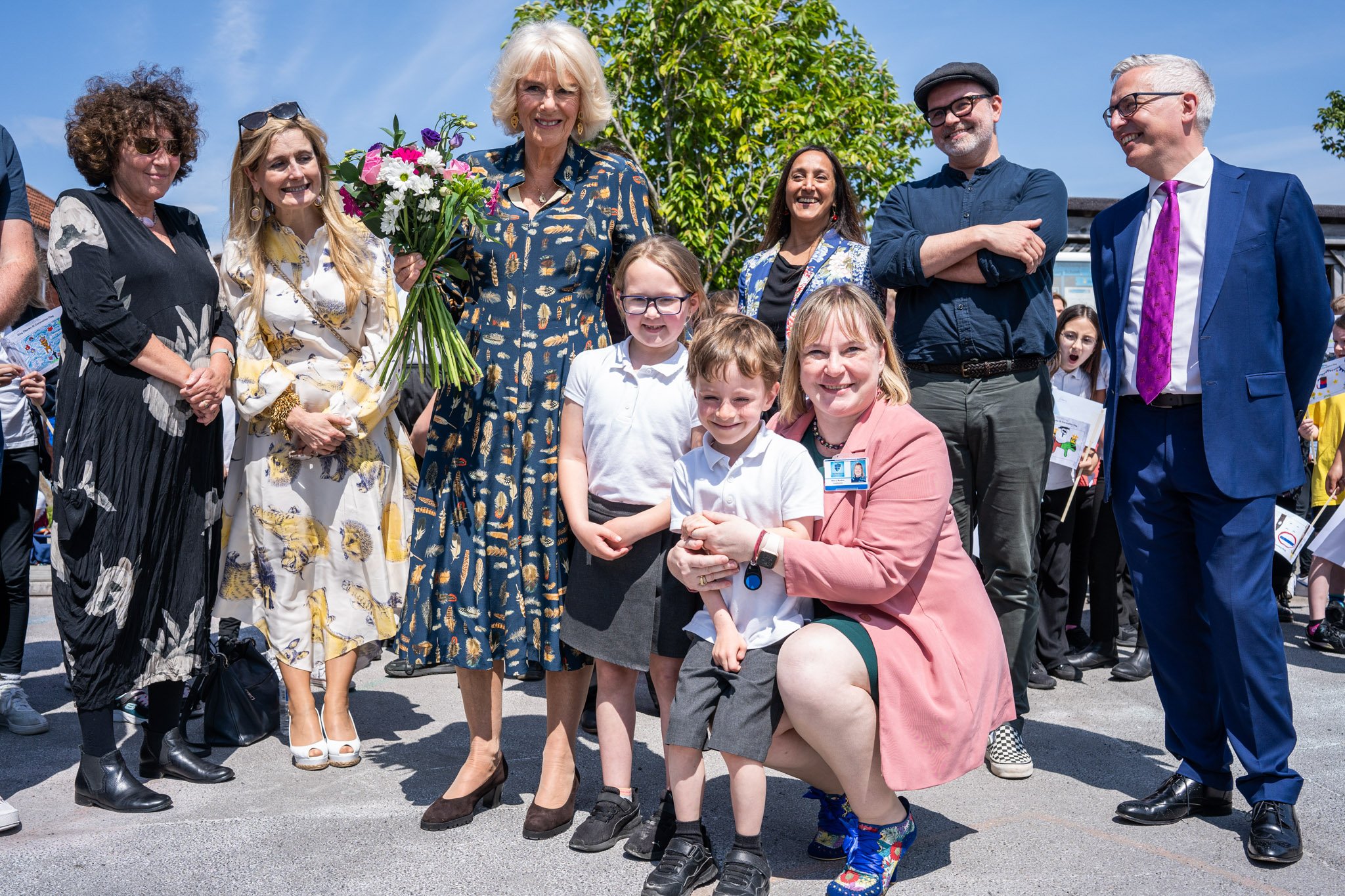 The Coronation Libraries Project celebrates the role that Her Majesty Queen Camilla has played in supporting literacy projects and encouraging young people to embrace reading from a young age. The project highlights the vital importance of primary school libraries in developing a life-long love of reading.

The Coronation libraries and reading spaces will be created across the UK in 2023 and 2024 in collaboration with Primary School Library Alliance partners, including Bloomberg. The reading spaces will be established in communities with low levels of literacy, where the cost-of-living crisis is biting hardest and children in the Coronation year are least likely to have books at home. Many of these communities live in areas Her Majesty has visited as The Duchess of Cornwall and Patron of the National Literacy Trust. Each library or reading space will be refurbished, restocked and two members of staff will be trained to manage it and deliver a range of reading activities for the whole school. In addition, a commemorative Coronation plaque will be placed in each library.

Shirehampton Primary School's new Coronation library is also the 500th library to be transformed as part of the Primary School Library Alliance campaign – a unique cross-sector, multi-partnership collaboration that is addressing the issue of library provision in primary schools across the UK. The Primary School Library Alliance (PSLA) works with schools located in some of the most disadvantaged areas across the UK, improving access to age-appropriate, diverse books and resources, delivering expert teacher training and inspiring reading spaces that help to embed a strong reading for pleasure culture across the whole school.
Representatives from across the charity, publishing and private sectors, including founding partners of the Primary School Library Alliance the National Literary Trust and Penguin Random House UK, together with Arts Council England, Bloomberg, Chase, Oxford University Press, and The Portal Trust also attended the event.
After being welcomed by Shirehampton's headteacher Louisa Munton, The Queen joined the school's pupils, as well as pupil librarians and school librarians from 10 other schools involved in the PSLA library transformation programmes, for a "draw your dream library" workshop led by National Literacy Trust's Lucy Starbuck Braidley and alongside How to Train Your Dragon author and illustrator and former Children's Laureate, Cressida Cowell and the Noughts & Crosses series author, screen writer and former Children's Laureate, Malorie Blackman.
The pupil librarians then accompanied The Queen to their new Coronation library, which was transformed as part of the Chase Rewarding Futures School Library Programme, where Horrid Henry series author, Francesca Simon and a small group of Shirehampton Primary School children were taking part in an interactive reading session.
In the library, which has been enriched by 400 new diverse and age-appropriate titles donated by Primary School Library Alliance publishing partners, Her Majesty was presented with the Coronation Collection – a selection of 23 books voted for by over 12,000 children across the UK in celebration of the Coronation before unveiling a plaque to officially open the space.
Pupils from Year 4 met author Jasbinder Bilan and author and Primary School Library ambassador Chris Smith, before joining The Queen for a Coronation Draw-Along with author and illustrator Rob Biddulph and the visit, Her Majesty's first since the Coronation on the 6th May, concluded with a party and a farewell song, chosen and sung by the pupils at Shirehampton Primary.
"Astonishingly, 1 in 7 state primary schools does not have a library so we are very proud to be working with our partners and helping to enhance 1,000 reading spaces in primary schools across the UK. Shirehampton Primary School's new library is the 500th and spaces like these will have a transformative effect on these schools' reading for pleasure culture and a positive, life-long impact on the children. It has been so fantastic today, to celebrate the Coronation, with the launch of the new Coronation Libraries project and to mark such an important milestone for the Primary School Library Alliance."

National Literacy Trust CEO, Jonathan Douglas
Former Children's Laureate, Malorie Blackman said: "It should be the right of every child to have access to well-stocked, local and regularly replenished public and school libraries. I know from first-hand experience just how vital libraries are to children's hopes, aspirations and mental wellbeing. Libraries are places of inspiration and our children deserve nothing less."
Headteacher at Shirehampton Primary School, Louisa Munton, said: "The library will harness their enthusiasm for reading even more, help them to continue to see the pleasure books bring, and enable them to secure better outcomes in reading. It will support our ongoing commitment to providing rich reading experiences for all of our children, some of whom have limited access to books outside of the school environment."

"To see, first hand, the passion the Her Majesty Queen Camilla has for reading, and share with her the difference our new library will make to the school community was a privilege. The children at Shirehampton have big dreams and working alongside several well-known and renowned authors and illustrators was an amazing opportunity, helping them see how books can lead into future careers. Today's visit has provided experiences I could have only dreamed of for our children and can't wait to see the positive impact it will have now and for years to come on the school."
Head of Corporate Philanthropy Europe, Caroline Rowley, said: "At Bloomberg, we understand the importance that access to books and a joy of reading can have on a child's education and how this in turn impacts social mobility. That's why we are proud to partner with the National Literacy Trust on their Coronation Libraries Project, directly supporting half of the new libraries created. In the first year of the project alone, our 25 libraries will benefit 7,000 young people and bring a love of reading to these schools and their communities."
CEO of Chase in the UK, Sanjiv Somani said: "We're delighted to see so many children enjoying their new library and hope it inspires imaginations and provides a welcoming space that sparks a love of reading. We know how important libraries are in supporting children in their literacy development, and the positive impact that reading skills can have on their future prospects. That's why our Chase Rewarding Futures school libraries programme is working hard to transform a further 156 primary school libraries across the country, so even more children can access books and other reading resources."