To celebrate Earth Day last week, best-selling author Sita Brahmachari, music artist and campaigner Love Ssega, writer Anouchka Grose and All Change Arts rallied Islington schools to pursue reading activism and help save the planet, as part of our Get Islington Reading Earth Day panel with The Reading Agency and Islington Libraries
The lucky students from Elizabeth Garrett Anderson School and St Aloysius RC College were invited to the Platform creative youth club for an inspiring Earth Day programme of spoken word performance and an exclusive Q&A with the author panel.
During the event, the budding environmentalists listened to the panellists reading journeys to help connect with the natural world and learned top tips for speaking about their environmental anxieties and creating change. The students created their own origami seed packets, completed a 'circle of concern, influence and control' activity about their worries for the planet, and wrote their own pledges for the local environment and Islington Council.
One student suggested Islington Council should publish poems or music to encourage people to take action on climate change, while another asked for more events about environmentalism, in their pledge.
They pledged to 'use their voice to speak up about these problems', 'to be more resilient about it' and 'to be more mindful about what [they] buy and wear less fast fashion', in their cards.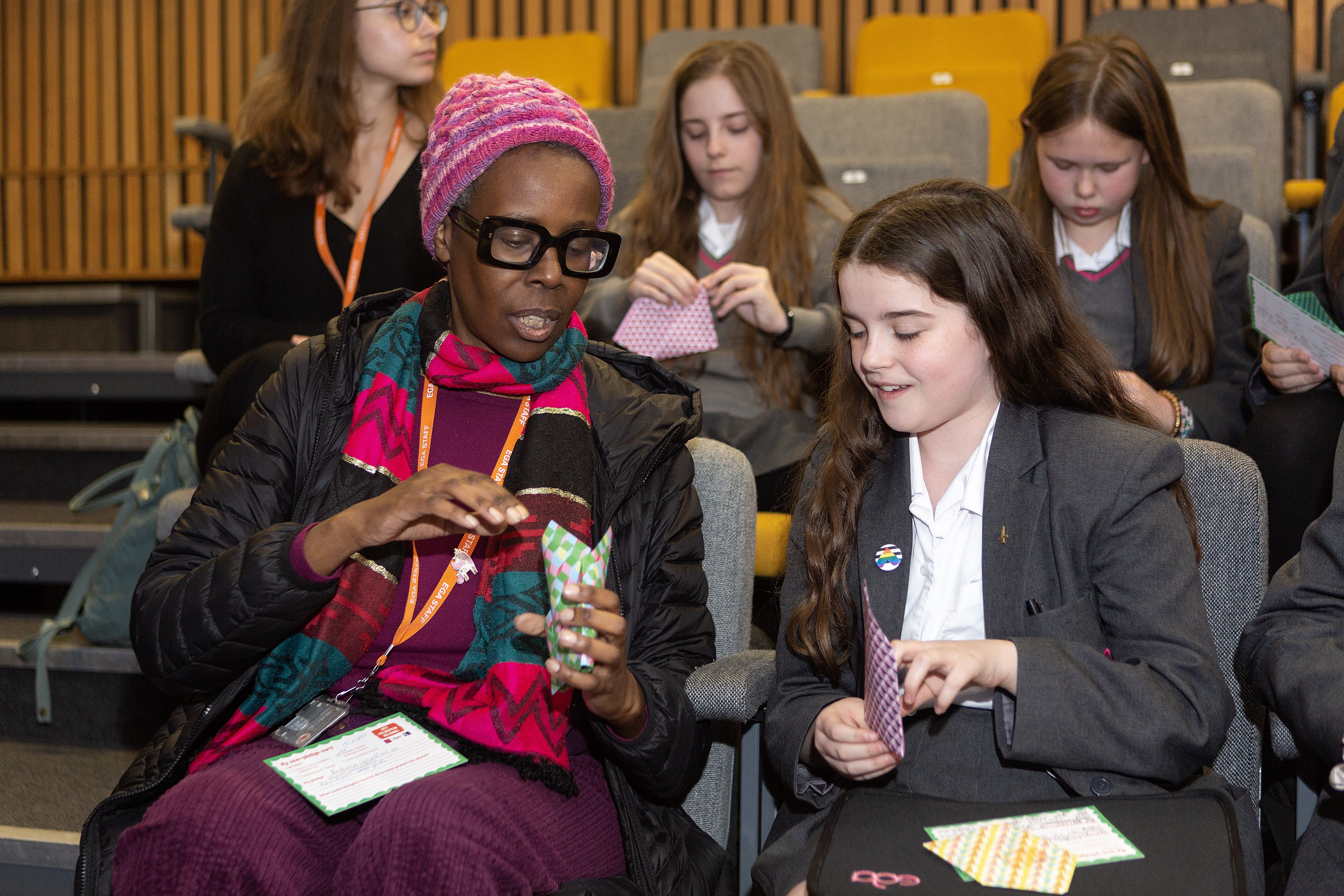 During the event, Love Ssega delighted students by performing his song Our Earth (Fight for Air) about air pollution in South London and encouraged them to use music and song writing to highlight the urgency of Net Zero.
Anouchka Grose, author of A Guide to Eco Anxiety: How to Protect the Planet and Your Mental Health, told students that 'writing can give you a voice, reading gives you knowledge and both of those give you power', while Sita Brahmachari spoke about her title When Rivers Run Gold and water pollution in the UK.
To build on the excitement of Earth Day, the students were also gifted free books including titles from a specially curated booklist from Islington Libraries and The Reading Agency's Reading Well for teens collection which supports young people's mental health, alongside activity sheets for designing an environmental poster campaign and learning about how to cut single use plastic.
The panel event comes after research shows the role of reading in environmental action. Studies shows that 81% of children and young people want to do more to look after the environment. Children and young people who read non-fiction are more likely to want to take care of the environment compared with those who don't read non-fiction (68% vs 49%). Through using this appeal of environmentalism, Get Islington Reading hope to make reading and writing accessible for those who may not always enjoy it at school.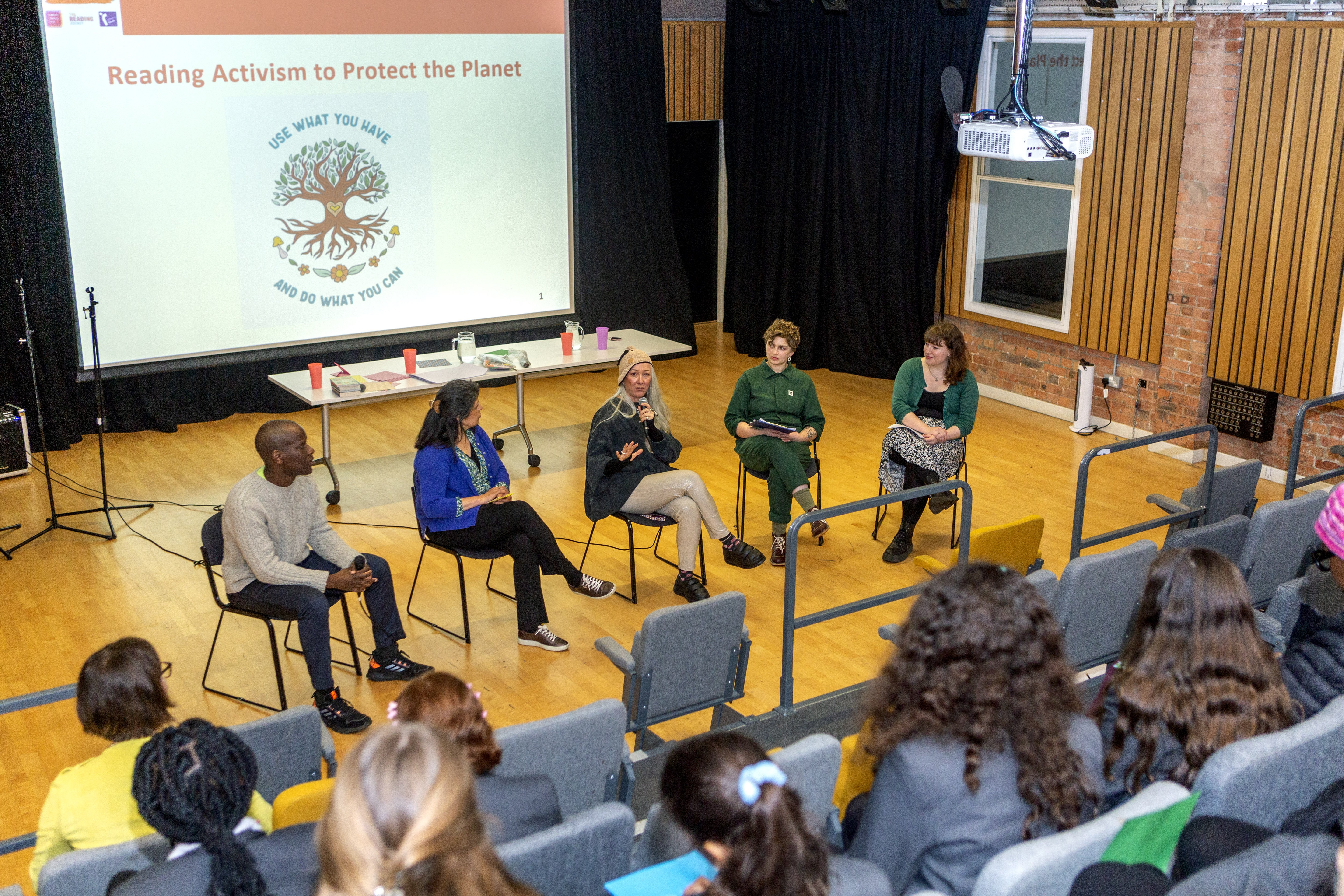 The participating schools also received an environment and wellbeing toolkit, created by The Reading Agency, which provides teachers with ideas for ways to talk with young people about how they are feeling about climate change through reading. It includes signposting to The Reading Agency's Reading Well collections which are available in local schools and public libraries as well as a bibliotherapy exercise to support mental health, using reading to express their feelings creatively and using reading with others as a means of sharing experiences.
By drawing on the powerful theme of climate change and activism, Get Islington Reading has been able to show how reading and literacy skills can support students to talk about environmental anxiety, better cope with their negative feelings about the planet and empower them to create change in their local area.
"Young people care deeply for the protection of our natural world. They are all too aware of the risks our planet faces. Environmental stories which give young people a sense of agency and hope are vital for them to sow seeds for a positive future. Stories that open hearts and minds can have a profoundly positive impact on the wellbeing of young people and can be a sustaining positive force of hope for the future of our earth."

Sita Brahmachari
"We know how concerned Islington children are about the environment and their local area, and how they can help protect the natural world. These events and activities have engaged them in discussions on these issues while helping develop their reading and writing skills. "We hope they will feel inspired to join environmental projects in their community and campaign more widely on issues that are important to them."

Jasmine Tucker, Project Manager of Get Islington Reading at the National Literacy Trust
"We know how passionate young people are about climate. Our work with Get Islington Reading for Earth Day helps to show how reading and writing can equip pupils with the tools they need to help protect the planet for future generations."

Karen Napier, CEO of The Reading Agency
"Our children are our future, and it's so important that we engage and empower Islington's young people to help make it a greener future for all. Books provide so much, for education, entertainment, and inspiration. Through reading and learning, we're delighted that Islington's school children have been given this unique opportunity to find out more about the future of their planet, and how they can make a positive impact on it."

Cllr Roulin Khondoker, Islington Council's Executive Member for Equalities, Culture and Inclusion