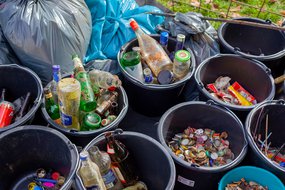 The Global Goals (also known as the Sustainable Development Goals) affect us all. They are 17 goals, agreed to by world leaders, and they form the blueprint for governments, businesses, educators, adults, and children to work together to end poverty, eradicate inequality, and respond to the call to action of the climate emergency to protect our environment.
It is important that children do not feel overwhelmed by climate change but rather that we support them to feel empowered to take action towards caring for our resources and environment in order to preserve and protect the planet for their generation and for future generations to come. These session plans use the book George Saves the World by Lunchtime by Jo Readman to introduce some key messages in an accessible way.
Before you begin you may wish to explore The Global Goals further. You can find more information on The Global Goals website.
Aims
To introduce The Global Goals through the World's Largest Lesson Earth Cubs resources, a story book, and discussion
To use the selected resources to educate and empower children
To support children in seeing themselves as agents of change
To help children respond to the targets set by The Global Goals by taking action in the local community or further afield
Curriculum links
These sessions plans link to the EYFS curriculum in the areas of personal, social, and emotional development, communication and language, literacy and understanding the world.
Download file