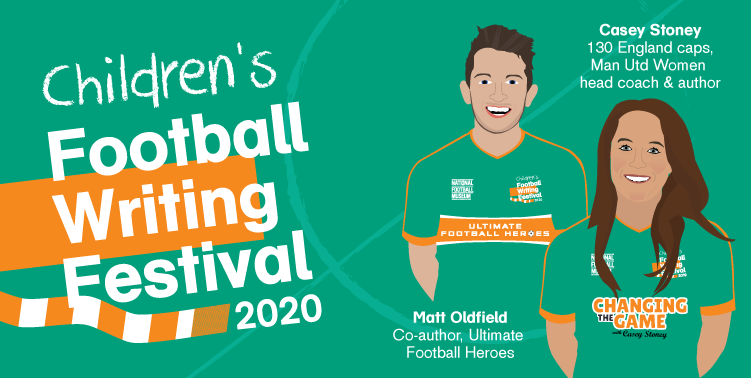 On 20 February, families in Manchester are invited to attend the first Children's Football Writing Festival at the National Football Museum. The event aims to encourage children to pick up a pen and transfer some of their football flair to paper.

The jam-packed programme of activities will include:
Storytelling with Pickles the Dog
A Q&A with former England international and current Manchester United Women's Head Coach, Casey Stoney
A creative workshop from co-author of the Ultimate Football Heroes series, Matt Oldfield
A Good on Paper writing session, where you'll find out how to write a football script and have a go at football commentary
A City Stars session with players from the Manchester City academy
Many more activities and your chance to win fantastic prizes!
To get excited for the event, we caught up with popular children's author and one of the event's organisers, Matt Oldfield to chat all things literacy:
Q&A with Matt Oldfield
What is your favourite thing about reading?
My favourite thing about reading is the mind travel. For me, there's nothing better than sitting in a comfy chair, while my imagination goes off into exciting, other worlds and meets lots of interesting characters on amazing (sporting) adventures.

Why do you think literacy is important?
At a practical level, literacy is, of course, a key skill that we need for work, and life in general. But I think reading is about a lot more than just understanding written words. I believe that reading can teach us so much about the world around us, and how to interact with each other, showing curiosity, spirit and empathy.

Can you give us a children's book recommendation?
Can I give two instead – one new, one old? As a huge sports fan, my modern recommendation is Ghost by Jason Reynolds, the first in the 'Run' series. It's about a group of gifted young athletes growing up in an urban US neighbourhood. I loved the characters and the inspiring messages too, about resilience and friendship. And then one of my favourite books growing up was The Phantom Tollboth by Norton Juster. It's a wonderfully wacky adventure story, with lots of really long, brilliant words to learn!

What's the best thing about your book series, Ultimate Football Heroes?
For me, the best thing is their impact on 'reluctant readers'. We hear so many lovely stories about football-mad kids who weren't interested in books until they found the Ultimate Football Heroes series. Nothing makes me happier than the idea of opening doors like that.

Which Premier League footballer would make the best children's book character? Why?
Oooo, great question! I know Peter Crouch isn't playing any more, but you could definitely imagine 'Two Metre Peter' in a Roald Dahl book, couldn't you? He'd be a tall, gangly man with a surprising talent and a great big heart. A very gentle, skilful giant!

How would you convince a football-crazy kid to fall in love with reading?
I usually find that showing them the front cover image of their favourite footballer and asking, 'Would you like to know more about them?' works pretty well!

What's the Children's Football Writing Festival all about?
The National Football Museum has been running a successful Football Writing Festival for a number of years now aimed at an adult audience. We thought there was a great opportunity here to showcase to children all of the amazing books and literacy projects that use football as a theme and an inspiration. 'Football' and 'reading' aren't always seen as a perfect (strike) partnership, but we believe that they're right up there with Bergkamp and Henry, or Messi and Suárez!

What do you hope to achieve from the Children's Football Writing Festival?
We hope to introduce kids to new authors and ideas, but above all, we want the festival to be a fun celebration of the incredible bond between football and reading. Our aim is to use the power of football to encourage and engage as many young readers as possible.

The Children's Football Writing Festival has been devised by the National Football Museum alongside Matt Oldfield and is supported by the Read Manchester campaign from the National Literacy Trust and Manchester City Council.

Tickets are free for families in the city of Manchester. Find out more on the website.
Find out more about Read Manchester
Download the Children's Football Writing Festival flyer