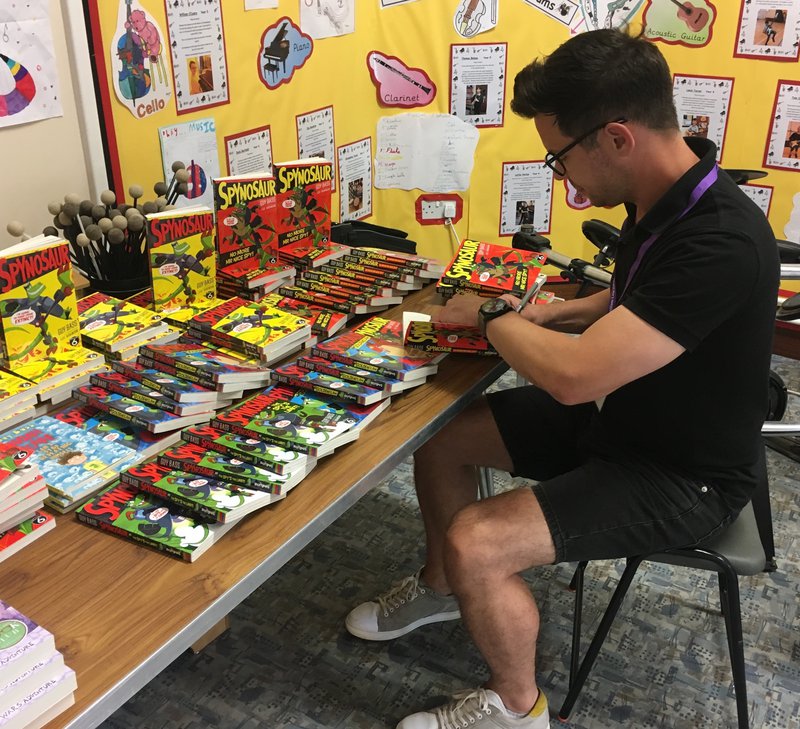 Children in Peterborough have had the opportunity to get involved in a range of fun reading activities in the lead-up to the summer holidays as part of the National Literacy Trust Hub in Peterborough, which is known locally as Peterborough Reads.
The events support the Vision for Reading in Peterborough, an approach launched by Peterborough City Council, Vivacity and the National Literacy Trust in January to ensure that every child in the city enjoys reading and can read well.
Big Book Quiz
10 local schools* joined a Big Book Quiz at Jack Hunt Secondary School on Tuesday 10 July, in partnership with Vivacity. The event was part of an initiative to help primary school pupils prepare for their move to secondary school in September.
Teams of Year 5 or 6 pupils from each primary school and a team of Year 7 students from Jack Hunt Secondary School battled it out against each other. They were quizzed on Alice's Adventures in Wonderland by Lewis Carol and The Midnight Gang by David Walliams, with other rounds featuring book covers and emojis. 44 pupils and 70 supporters attended, and after seven close rounds pupils from Longthorpe Primary were crowned the winners.
Young Readers Programme
Events have also been held in Peterborough as part of the National Literacy Trust's Young Readers Programme, which helps children to discover a love of reading by giving them the chance to choose new books to keep at a series of three fun events. In Peterborough the programme is funded by British Land and WHSmith Trust. Year 5 children from four Peterborough primary schools enjoyed their final Young Readers Programme events last week, which involved awards-winning author Guy Bass.
Braybrook Primary School and William Law C of E Primary School hosted Guy at their respective schools, while Lime Academy Abbotsmede and Discovery Primary School visited the John Clare Theatre with the support of Vivacity. Every child received a signed copy of a book in Guy's Spynosaur series.
Early Words Together
Young children and their parents from West Town Primary Academy and Ravensthorpe Primary School have been taking part in the National Literacy Trust's Early Words Together programme, to help prepare children for starting primary school in September.
The programme trains early years staff and volunteers to work with parents and children aged three to five, building parents' confidence so that they can support their children's communication, language and literacy skills at home.
Teachers in five Peterborough schools have also received training to deliver Early Words Together to families whose first language isn't English.
Sally Atkinson, Manager of the National Literacy Trust Hub in Peterborough, said:
"It has been fantastic to have so many children involved in these exciting literacy-based activities before the end of term. We hope that the Big Book Quiz and events with Guy Bass will inspire pupils to continue reading over the school holidays and get involved in the Summer Reading Challenge over the summer."
"We are still looking for Reading Buddies to support reading at Peterborough schools from September. No previous experience is required and full training is provided – if you could help, we'd love to hear from you!"
Jonathan Lewis, Service Director for Education at Peterborough City Council, said:
"A Vision for Reading in Peterborough aims to ensure that every child in the city enjoys reading and can read well. We know that instilling a love of reading in our children will help them to do better at school and succeed in life. It is brilliant to see all the events happening across the city supporting our goal."
To find out more about becoming a Reading Buddy, email sally.atkinson@peterborough.gov.uk.
For more information about Peterborough Reads, visit literacytrust.org.uk/peterborough.
*Gladstone Primary Academy, Sacred Heart RC Primary School, Ravensthorpe Primary School, Highlees Primary, Eyrescroft Primary, West Town Primary Academy, Longthorpe Primary School, Middleton Primary School, Thorpe Primary, Jack Hunt Secondary School