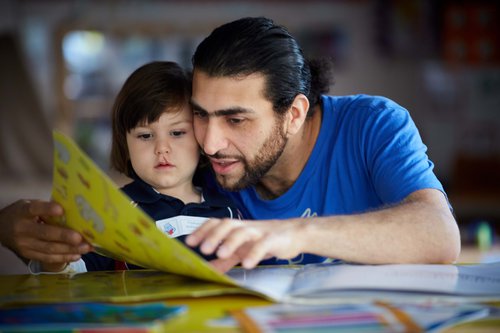 A new campaign aimed at giving Peterborough's youngest children the best start in school launches today with events for parents and children in Queensgate Shopping Centre.

Tuesday 18 April is the day pre-schoolers find out about their first school place and also marks the launch of START - the city's new campaign offering resources, information and support to help get youngsters all ready for the big day.

Developed by Peterborough City Council in partnership with health visitors, children's centres, the National Literacy Trust, Vivacity, Cross Keys Homes, Axiom Housing, Family Action, City College Peterborough and representatives from schools, pre-schools and nurseries; START is about helping children feel positive about the start of their learning career by supporting parents and carers to help them prepare.

The START team including early years teachers and practitioners, health visitors and librarians, will be in Queensgate (outside Primark) between 9am and 5pm on Tuesday 18 and Wednesday 19 April with fun activities including storytelling and singing, craft activities, free books and information on the range of organisations offering help and support for children.

Keeping to the START theme, there will be guides to take away including tips and activities around the key areas research shows are important to primary school starters:


Shoes, socks and putting on clothes (being more independent)

Talking, listening, sharing and following instructions (concentration skills)

Asking for help (building confidence)

Ready to try different foods and utensils (being more intrepid)

Using the Toilet on their own.

Sally Atkinson, Learning and Teaching Adviser (EYFS) and Peterborough National Literacy Trust Hub Manager, said: "Parents and carers are children's first teachers and have a hugely positive impact on getting them ready for school.  The START campaign offers simple tips and activities for children to help build their confidence so that they begin school curious and ready to learn.

"The activities and approaches are simple and might be things that parents and carers are doing already.  Or there may be some new ideas which people just aren't aware of that can make that positive bit of difference when four year olds enter the classroom in Autumn."

Karen Hingston, Manager Early Years & Quality Improvement Team, said: "We're encouraging everyone with a pre-schooler to find out about the resources available and to come along to the events on Tuesday 18 and Wednesday 19 April.  It's never too early to start helping your children get ready for school."

More information and all the resources are available on the Peterborough City Council website: www.peterborough.gov.uk/START.