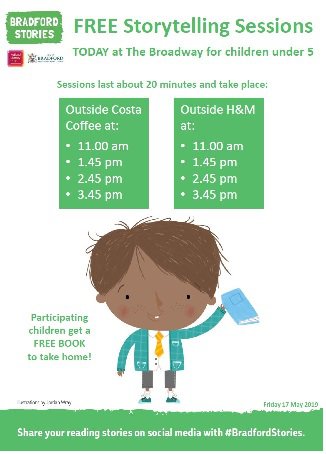 Families with young children have the chance to enjoy free storytelling sessions at The Broadway shopping centre today. Children taking part in the sessions are also receiving free books to take home.
Bradford Stories, our campaign aiming to improve literacy levels in the city, has teamed up with PwC and The Broadway to help bring the magic of stories to children in Bradford.
The storytelling sessions are led by volunteers from PwC's Bradford office as part of the organisation's 10th annual One Firm One Day (OFOD) fundraising and volunteering event which encourages staff across the UK to give something back to their local community.
Storytelling sessions are taking place at two locations within The Broadway – outside H&M and outside Costa Coffee – at the following times:
11.00 am
1.45 pm
2.45 pm
3.45 pm
Imran Hafeez, Bradford Stories Manager, said: "We are really excited to be working with PwC and The Broadway to help bring the magic of stories to children and families in the city. We hope that lots of families will come along on 17 May and join us at this fantastic event."
Roxanne Youman, Client Services Administrator PwC said: "We are delighted to be supporting this event as part of our national day of volunteering, One Firm One Day (OFOD). This is our 10th annual event and we have thousands of staff all over the UK supporting their local communities through volunteering. We are proud to have supported the National Literacy Trust for many years as a firm and look forward to meeting everyone on the day."
Ian Ward, General Manager at The Broadway said: "We're thrilled to be hosting such a fantastic event and are proud to be offering an alternative activity for families visiting the centre. The event is a great way to recognise and celebrate the importance of storytelling within the local community. We are urging families to come down to the event, to take part and support the brilliant work of PwC and the National Literacy Trust."