This is a sponsored post.
As an award-winning educational publisher and supplier, BookLife are acutely aware of the challenge facing teachers and librarians when it comes to stocking the bookshelves on ever-decreasing book budgets. Last year, BookLife's CEO Nick Ison came up with a plan to help: the match funding scheme.
The scheme, which sees BookLife match every pound spent with another to spend, effectively doubles book budgets for teachers and librarians across the UK. Following the enormous response to last year's scheme, BookLife are re-launching the popular funding programme across all UK schools for 2018/19, and every school, from EYFS to KS4, is now eligible.
The new match funding catalogue offers a huge selection of both fiction and non-fiction books for all reading abilities, and includes pre-stickered book band collections, accelerated readers, well-known author sets and plenty of titles for reluctant readers, including manga collections new for 2019.
How match funding can help
Statistics show that currently only 61% of children are likely to reach expected reading levels by the end of Key Stage 2. An investigation was clearly desperately needed. Following a thorough analysis of school spending, BookLife found many worrying trends. When it came to replacing books, 50% of schools were spending less than 25% of their recommended budget, with 20% not spending any money on replacement titles at all. With over 50 years' experience in the sector, BookLife could not accept this, and match funding was launched as a pilot scheme, and was then opened to all UK primary schools.
What is match funding?
It's simple. For every pound a school or library service spends, BookLife will credit your order with another pound to spend on even more school books and quality resources.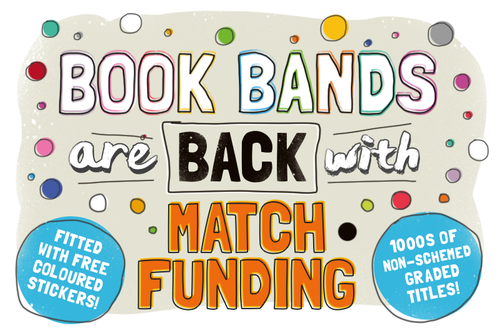 Is there a catch?
No! There are no spending limits – BookLife will match any spend total, from £1 upwards. There are no limits on the number of times match funding can be claimed, allowing schools to use the scheme throughout the year as needed. Schools can spend their claimed funding on anything they choose from the match funding catalogue, including huge ranges of fiction for all grades, while stocks last. The BookLife customer service team can help you with every step of your order, from choosing from the huge selection to creating bespoke packs and recommending complimentary titles.
How to claim
Match funding is now open to all UK schools. Schools can order over the telephone or online, and BookLife accept purchase orders too. For more information, visit www.booklife.co.uk, or call 020 7649 9565.