26 Jan 2024
9:30am - 10:15am
Online
Introducing our special guests
Teachers and pupils, we invite you to join our free online 45-minute conversation with author Tom Palmer and Holocaust survivor Mala Tribich.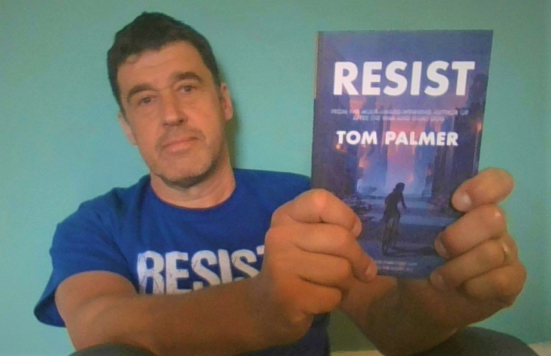 Award-winning writer, Tom Palmer, author of After The War, and Holocaust survivor Mala Tribich will join our live event from 09:30 to 10:15 to commemorate Holocaust Memorial Day on Friday 26 January 2024.
This event is part of our suite of support across that week for schools commemorating Holocaust Memorial Day 2024. Access a specially written Tom Palmer story, plus free videos and worksheets to support students' writing on our Holocaust Memorial Day resource page.
100 schools who register for, and attend, the online event will be in with a chance to receive a free bundle of books.
Attendees will have the chance to:
Hear from a world-class author and be inspired to write about this important subject.
Learn from Mala about her experiences
Be selected to receive a set of 10 books.
This event will take place as a Zoom Webinar and, although the best way to take part is live, it will remain on the National Literacy Trust as a resource video after the event.
Webinars are open to all teachers based in primary or secondary schools, public or community libraries across the UK and Club Community Organisations working in schools. The webinar is ideal to share with pupils aged 10 to 14 (Years 6, 7, 8, 9 and P6 to S3).
Schools are invited to submit questions in advance for this Q&A by emailing the School Resources team. Teachers must write 'HMD question' in the subject, and include information that they wish to share, considering data protection and safeguarding protocols. We will only use pupils' first names, year group, school and area (e.g. Ella, Y8, Alfred Academy in Newham). All questions are to be submitted by 17.00 Wednesday 24 January 2024.
Session benefits
Provide a unique opportunity for pupils to hear from a Holocaust survivor
Engage your pupils in reading and writing activities
Give your class the chance to commemorate Holocaust Memorial Day
You will be able to interact with the presenters through the chat function, but you will not be able to chat with, or see the chat from other schools.
Unless asked by the National Literacy Trust within the event as part of the event, schools will not be able to turn their camera or microphone on.*
(A recording of this event will be made available and posted on the resource page as soon as possible.)
FAQ
Can I share the access code? Yes you can.
I have registered but don't have an access code. Please check your spam. An automated email was sent to you with all necessary details, including your Zoom link, when you registered.
What if the event is full and I can't get in? We do have a finite number of spaces for the event. If you can't get in, you can still stream the event live on the National Literacy Trust YouTube channel: youtube.com/LiteracyTrust.
What if I have technical issues? If you can't get in, you can still stream the event live on the National Literacy Trust YouTube channel: youtube.com/LiteracyTrust.
Will there be a recording of the event? Yes. A recording will be posted on our resource page week commencing 29.01.24.
Am I one of the 100 schools who will be getting a pack? 100 schools will be notified week commencing 15.01.24 and packs will be despatched following this. (Please do not register more than once.)
If you have any other queries please email with 'HMD query' in the subject heading.
Register for the event