All-Party Parliamentary Group on Literacy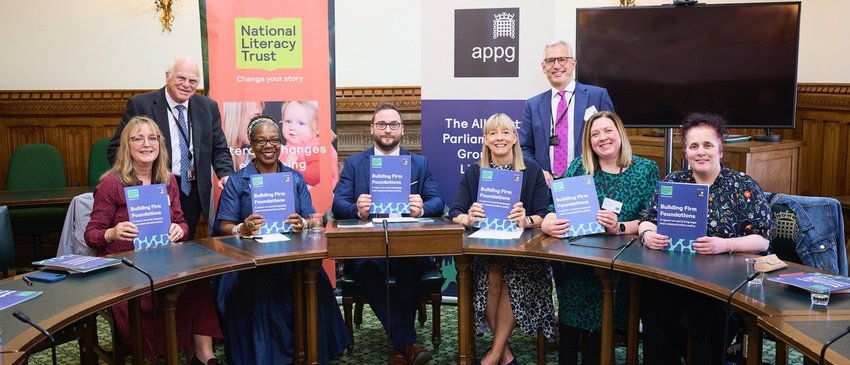 The National Literacy Trust is proud to serve as the secretariat of the All-Party Parliamentary Group on Literacy. The APPG on Literacy was re-launched in June 2023 and is committed to ensuring parliamentary knowledge and support for the latest research, policy, and best practice in the field of literacy.
The group is chaired by Christian Wakeford MP, with Alexander Stafford MP serving as the Co-Chair, Justin Tomlinson MP as the Vice Chair, and Gill Furniss MP and Lord Graham Tope acting as officers. Additional members of our APPG include Baroness Floella Benjamin, Baroness Usha Prashar, Barry Sheerman MP, and Dan Carden MP.
We carry out parliamentary commissions and projects to explore major policy issues.
The All-Party Parliamentary Group on Literacy held its AGM meeting on Tuesday 13 June 2023. We outlined the top priorities for the APPG over the coming year, including the effort to increase the number of primary school libraries throughout England by way of the Libraries for Primaries campaign and encouraged our members to continue supporting the message in Parliament.
In addition, we provided an update on early years work, discussing releasing a report through the APPG on the early years policy recommendations that help increase early language development and quality early years provision. The APPG released a Call for Evidence on early years policy from June to August 2023, through which we received numerous submissions that have contributed to the content of the report.
The report, 'Building Firm Foundations: A Report on Early Language and Communication Policy', was launched through a joint event with the APPG on Literacy and the National Literacy Trust on 24 October 2023. You can read more about the report here.
For more information and inquiries, please contact Erin Hayden, Policy Manager.
Commissions, policy papers and projects