To round off 2020, Peterborough Reads launched a book gifting scheme for the 1 in 11 local children who do not own a single book of their own. The campaign was a huge success and 500 books reached children in time for Christmas.
We launched the scheme to address local literacy problems and spread some festive joy. Research shows that school closures resulting from COVID-19 is set to reverse all progress to close the attainment gap in the last decade. The risk is particularity prevalent in Peterborough as six wards in the city are in the top declie for literacy vulnerability.
However, the book gifting scheme set out to help mitigate learning loss and thanks to local people and businesses we've been able to spark a love of reading for 500 Peterborough children - many for the first time. Children will be able to enjoy the countless benefits of reading; those who own books are six times more likely to read above expected levels for their age and are also generally happier with their lives.
The initiative was supported by several local businesses including Perkins, John Lewis, Buckles Solicitors and Heggartys who all donated books suitable for children aged 9-11. The Peterborough branch of Metro Bank also supported the initiative by providing a drop off point for the hundreds of donations.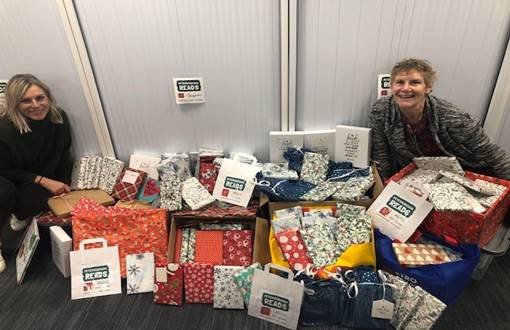 Peterborough Reads works closely with children aged 9-11 because as a child progresses from primary to secondary school, their reading enjoyment drops which can affect their performance at school and negatively impact their mental wellbeing. We therefore campaign about the importance of good literacy skills for children aged 9-11 to ensure that they are set up for the future.
The 500 books we received have been distributed to several local primary schools who are helping Peterborough Reads get books into the hands of children who need them most. Many children have already received their new book and some have even written thank you letters to the organisations who supported the scheme.
If you'd like to support our work, you can also text PBREADS to 70085 to donate £7 to spark a love of reading for children in Peterborough. (Texts cost £7 plus one standard rate message and you'll be opting in to hear more about our work and fundraising via telephone and SMS. If you'd like to give £7 but do not wish to receive marketing communications, text PBREADSNOINFO to 70085.)
Lisa Hynes, Development Manager for Peterborough Reads, said "We're delighted with the success of the book gifting scheme as the year can end on a high for so many local children this year. I've got to say a huge thank you to local individuals and businesses alike who kindly gifted us books for Peterborough children who can now enjoy the countless benefits of reading from improved attainment at school to increased empathy and overall happiness."
Steve Stafford, Area Director, Metro Bank Peterborough, said
"It's hard to believe that 1 in 11 children in the most disadvantaged areas of Peterborough do not own a single book of their own at home. We were delighted to support the book gifting scheme this year alongside being the drop off point for the donations of new books to children that need them the most this Christmas - the response from the community has been amazing."
---
Support our work