For more than 20 years our Young Readers Programme has provided children from disadvantaged backgrounds with the skills they need to choose books and fall in love with reading. The programme is structured into three events, taking place in school and externally, after which all children will receive a free book to keep.

The Young Readers Programme in Middlesbrough is funded by WHSmith, which has given its support for the last 14 years. It is also backed by employees from the local branch at Teesside Park, who have worked in partnership with our Middlesbrough Reads campaign to boost literacy levels across the town since its inauguration over six years ago.

This year pupils in Year 5 at Ayresome Primary School in Middlesbrough were one of a handful of schools lucky enough to take part in the Young Readers Programme. Ayresome is much larger than the most primary schools in the town centre and around two thirds of its pupils are eligible for pupil premium support. The children are from a wide range of ethnic backgrounds and speak a total of 38 different home languages at home. The school also suffers from significantly high number of pupils joining throughout the school year, which can cause disruption to teaching.

Year 5's teacher Rachel Wilson introduced her pupils to the Young Readers Programme with a teaser activity in the classroom. They were tasked with answering questions about popular children's literature titles such as Harry Potter and Peter Rabbit to reveal a clue. The first letter from each answer was then used to spell out another children's book and its author.

For the class's second activity, they held a book-themed picnic, or booknic, in the school hall. The event started with storytelling, followed by traditional summer games, refreshments and the chance to choose a summer-themed book.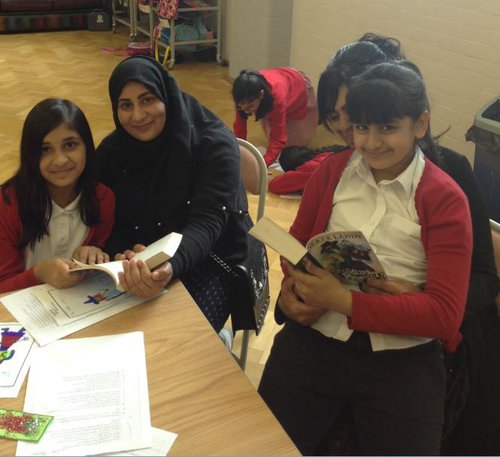 Year 5 pupil Selina said:
"Before taking part in the Young Readers Programme I didn't really enjoy reading that much. My teacher introduced me to a new book that I enjoyed and it made me want to read more. We are now getting shown lots of new books and I think 'that looks interesting' and so I want to read it."

Another Year 5 pupil Misbah added:
"I really like how reading exposes me to more vocabulary and I can use the ideas from my reading in my writing. At the moment it's really helping me write my crime scene story!"

Year 5 pupil Alina said:
"I really like reading and books now. The Young Readers Programme has helped me improve my reading!"

Ayresome Primary School pupils then joined three other schools at Middlesbrough Football Club's Riverside Stadium for their final literacy-focused activity. The event was hosted by popular children's authors Gabrielle Kent (Alfie Bloom series), Ben Davis (The Private Blog of Joe Cowley) and Cathy Cassidy (The Chocolate Box Girls), who all brought their books to life with a series of lively and interactive presentations. All pupils in attendance received their third and final free book, which many got signed by the authors they'd spent the day with.

After the final event, Selina from Ayresome Primary School said:
"It was the best day ever, fun and interesting. I loved the fact that we met three authors and got to choose one of their books – I got 'Sami's Silver Lining' by Cathy Cassidy."

Misbah said:
"It was a dream come true to meet a real-life author. I've read 'Marshmallow Skye' and then I got to meet Cathy Cassidy who wrote it. She was so inspiring and really friendly."

Alina said:
"I really wanted to get 'Love for Lexi' by Cathy Cassidy and then I got to meet her and all the other authors, it was brilliant!"

Both parents and their teacher have noticed the positive impact that the Young Readers Programme has had on the Year 5 pupils.

Alina's parent said:
"I have always recognised the importance of reading, but over the past year my daughter has really turned into a reader – she's reading in bed from choice! It's also when you're being read good books in class. She now wants to read all the time and asks me to buy her books when we are at the supermarket! She says reading is helping her writing too!"

Year 5 teacher at Ayresome Primary School Rachel Wilson said:
"Before taking part in the Young Readers Programme there was an apathy towards reading and books. Now there's a real buzz! A lot of them don't have books of their at home, so being able to choose books to keep is really special and exciting for them.
"I regularly see pupils picking up a potential new book, reading the blurb and then doing the 5-finger check, to see if it's at roughly the right level for them. It's also raised my awareness of the wide range of new material that's available – I'm not sticking to the tried and tested favourites anymore!"

Allison Potter, Manager of Middlesbrough Reads, said:
"When children enjoy reading and have books of their own at home, they do better at school and are more likely to lead happy, healthy and successful lives. We were thrilled to be able to inspire young readers at the town's Riverside Stadium by celebrating the transformative power of books with three fantastic children's authors."

Find out more about Young Readers Programme.