Fiona Evans, Director of School Programmes at the National Literacy Trust, discusses our Education Recovery area which supports teachers on their return to school
As we all know, the pandemic and recent school closures have disrupted the learning of children, young people and adults on an unprecedented scale and highlighted inequalities in access to vital literacy and learning support.
This is the second 'back to school' moment in the UK since the pandemic hit the UK in March 2020.
What has been the impact on those children and young people?
Unfortunately, predictions around an ever-widening attainment gap between children from low-income backgrounds and their more affluent peers came true.
We recently set up an observatory of research to bring together all the evidence on how the pandemic impacted children and young people in the communities we focus on as a charity. Teachers in these schools offered ongoing care and teaching for vulnerable children on site and also turned their schools into foodbanks and welfare centres and aimed to support the mental and physical health of their families and school community.
Much of the research shows that, during the lockdowns, children who had good access to digital devices, supplies, books and paper and confident and available parents experienced less of a negative impact on their learning during school closures. The pandemic disproportionately affected the learning of many children from low-income homes who often did not have access to these.
Education Recovery
To support teachers, we launched an Education Recovery area on our website in May 2021 literacytrust.org.uk/education-recovery
Since its launch we have supported over 9,000 teachers with resources, training and programmes. The area provides both free and paid-for training for teachers, targeted literacy interventions and a huge range of programmes and teaching resources to equip teachers with the best strategies and tools for enabling children and young people to build on the literacy skills they have and to move forward from recent challenges. Thanks to generous funding from our partners who recognise the impact of the pandemic on many children and young people's literacy skills, the majority of our programmes and initiatives are fully funded and free to eligible schools.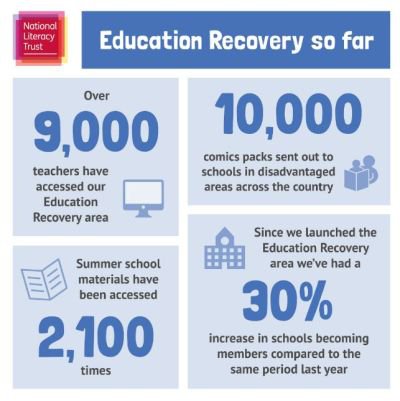 We know that teachers want to deliver a holistic, broad and creative recovery curriculum and develop their pupils' confidence and motivation around reading, writing and communication, as well as their skills.
Each academic year we deliver at least 50 different programmes across the country to more than 6,000 schools. Our highly engaging, fully-funded and evaluated programmes motivate children and young people in all aspects of literacy. They bring the power of role models such as celebrities, footballers, authors and influencers into the classroom and provide memorable experiences that inspire pupils to engage with reading and writing. You can find out more about the ones with spaces still available on our Education Recovery area.
Although restrictions have been eased, it is unlikely to be an easy autumn term or an easier academic year. We will soon be adding a teacher wellbeing area to our Education Recovery space and we will continue to provide the best quality resources such as fun reading challenges, book lists, lesson plans and schemes of work to help teachers, librarians and practitioners with planning and teaching.
We know that low literacy levels can hold a person back at every stage of their life, and we are committed to support teachers and educators so that everyone has a fair chance to succeed in life.
Everyone here at the National Literacy Trust would like to wish all school staff good luck for the new academic year!