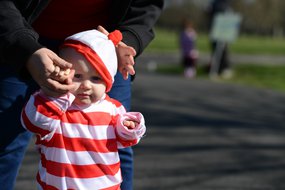 You don't need to be an expert to help your child develop good communication skills. All you need is a listening ear and the willingness to chat to your child whenever you can.

Here are some top tips and benefits of talking with your baby and young child.

Top tips for talking with your child
Talk to your child when you're playing together.

Get into their zone and talk about what they are looking at or playing with – they will learn language faster that way.

Have fun with nursery rhymes and songs, especially those with actions.

Encourage your child to listen to different sounds, such as cars and animals. This will help your child's listening skills.

Gain your child's attention when you want to talk.

Increase vocabulary by giving choices, e.g. "Do you want juice or milk?"

Talk about things as they happen, e.g. when you're both unpacking the shopping.

Listen carefully and give your child time to finish talking. Take turns to speak.

Always respond in some way when your child says something.

Help your child to use more words by adding to what they've said, e.g. if they said "ball" you might say, "Yes, it is a big, red ball."

If your child says something incorrectly, say it back the right way, e.g. "Goggy bited it." "Yes, the dog bit it, didn't he?"

Try and have special time with your child each day to play with toys and picture books.

Limit TV time. Try to watch TV together so you can talk about what happens.

Talking to your baby matters
Here are some of the benefits:
It will help your child learn to talk, as it is from listening to your voice that babies learn to use language.

It will stimulate your baby's brain, helping to strengthen the connections that make learning possible.

It will help your child become a good reader and writer, because language skills form the foundation for literacy.

It will help your child develop social skills and good relationships.

It will show that you love and respect your child, enhancing self-esteem.

It will help the two of you form a close bond - communication is the basis of your relationship with each other.
Content was originally developed for Talk To Your Baby, drawing on research from the leaflet, Help Your Child Talk by the Royal College of Speech and Language Therapists.


For more information
Download files
You might also be interested in