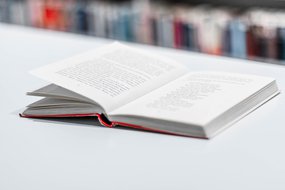 In this case study, Cris Heartford, Assistant Principal at Pool Academy, Cornwall, explains how the school developed a literacy and wellbeing tutor reading programme across Key Stage 3.
Research and rationale
National Literacy Trust research has found that children and young people who are the most engaged with reading and writing have significantly better mental wellbeing that their peers who are the least engaged.
Furthermore, a strong theme emerging from our research into literacy during the first lockdown was the extent to which reading, writing and listening to audiobooks supported children's mental wellbeing.
Introducing a tutor reading programme
As in schools across the country, the staff of Pool Academy, Cornwall were acutely aware that students' mental wellbeing and their literacy skills were being negatively impacted by the disruption to learning caused by the COVID-19 pandemic.
Determined to tackle the problem, literacy leaders at Pool Academy drew from National Literacy Trust resources such as Wellbeing, reading and writing and Children's Mental Health Week to ensure that they made reading to support mental health an integral part of their literacy strategy. They aimed additionally to underpin reading engagement and skills development that would help students meet the higher literacy demands required for GCSEs.
The school identified objectives across literacy and PSHE, and developed their Key Stage 3 tutor reading programme, which both identified books and topics aligned with their objectives, and also ensured there was support and guidance for staff to make this project a successful whole-school endeavour.
Download the case study for insight in to the inspiration for and delivery of the project.
---
Pool Academy has been awarded our Working with the National Literacy Trust logo for this great work putting literacy at the heart of the school. Learn more about the Working with the National Literacy Trust logo and find out if you could apply.
Download file
You might also be interested in