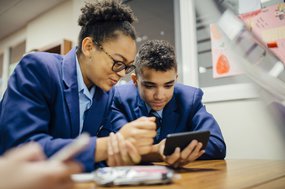 To mark Safer Internet Day, we have created an engaging classroom activity to prompt discussion about the effects of social media, taking into consideration the positives and negatives.
This teaching resource was created in partnership with secondary school students themselves, as well as students, academics and professionals from University College London's International Centre for Lifecourse Studies.
The resource:
Is aimed at Key Stage 3 students
Provides 10 statements about social media for students to think about in relation to the way they use social media
Will work best if students are able to physically move around the classroom to demonstrate their levels of agreement or disagreement with each of the 10 statements
Some of these statements may prompt challenging discussions, so please refer to your school's safeguarding policy if you are concerned about a student's wellbeing or online safety.
Safer Internet Day takes place in February each year. More resources linked to this topic can be found at:
Our Newswise programme helps teachers empower pupils to access, understand, analyse and participate in the news, and to navigate the channels that provide and share news.
Download file
You might also be interested in