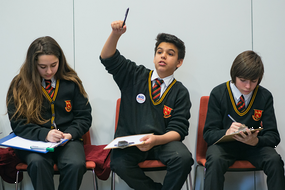 Storytelling can take many forms, from fictional to journalistic to autobiographical. Here you will find a range of tips, ideas and resources to support with telling and writing stories across a variety of genres.
Establish context, purpose and audience
Three things determine the type of writing required for any curriculum task: context, purpose and audience. Ensure that students explore the following when composing stories:
Context: the subject and topic
Purpose: why am I writing? What makes this a compelling story for my audience?
Audience: who am I writing to or for?
Deconstruct model texts
When composing stories, it's crucial that students are exposed to high-quality models, through which they can analyse elements such as text structure. As part of our Improving writing in secondary subjects professional development course, we recommend that in any subject teachers use model texts to demonstrate text organisation and deconstruct language features with students.
Focus on vocabulary
Writing provides the perfect opportunity for students to enhance and expand their vocabulary - through both exploring vocabulary use in model texts and expanding their own vocabulary use within their own writing. Download our free vocabulary activities resource (from the available files section of this page) for a host of activity ideas to develop your students' vocabulary.
Provide a stimulus
When asking students to reflect on and tell their own personal stories, about real-life events, or issues that matter to them, it can help to provide them with a stimulus or prompt, for example, a memorable object or place. Explore our free Life Stories Top Ten resource for lots of ideas about how to engage students in personal storytelling - as well as their families.
Make it fun!
Develop your students' confidence ahead of story writing by playing creative warm-up games and offer students a safe pace to explore their ideas. Visit our free Everybody Writes resource for lots of writing games ideas.
Download file
You might also be interested in