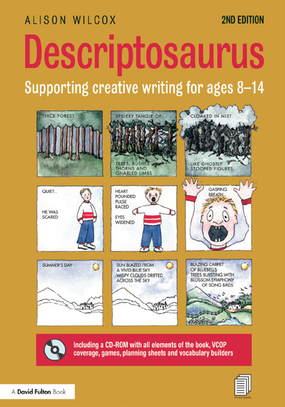 Our Descriptosaurus Time Machine competition provides pupils with a great opportunity for to expand and experiment with descriptive language, develop their ability to add more depth and colour to their writing. It also offers cross curricular links, particularly with history, and the opportunity for pupils to research their chosen time period.

Encourage your pupils to expand and experiment with descriptive language using the Descriptosaurus books as inspiration. Pupils are motivated to create their own piece of descriptive writing set in a particular period of time – past, present or future.
The resources
Descriptosaurus Time Machine - Ideas and activities to help you run competitions in school
This handbook is suitable for Key Stage 2 and 3 pupils and features lots of ideas for incorporating the task into class time including:
An explanation as to why descriptive writing is important and its relevance to the new KS2, KS3 and GCSE curriculums
A warm up for pupils to familiarise themselves with descriptive writing before writing their competition entries, including games
Examples of different ways that descriptive writing can be used in traditional stories, films and travel brochures, and activities surrounding this
Effective ways to structure creative writing
A how-to guide for writing in the past tense
Appendix action frames
Descriptosaurus time machine - poster
This poster outlines the challenge which could be displayed in the classroom.
These resources were created in partnership with Routledge to promote the competition we ran in spring 2017.
Download files
You might also be interested in