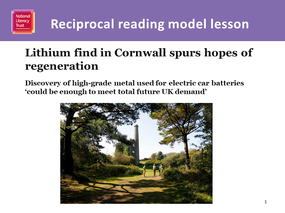 Reciprocal reading is a guided reading comprehension strategy, designed to develop the four skills that effective readers use and apply automatically in response to what they are reading. It works by:
Engaging every student in problem solving and discussion of the text
Following a framework to support active participation and scaffold learners
Encouraging students to transfer specific reading strategies to independent reading of new texts.
How does this work in geography?
In GCSE geography students are required to synthesise a large amount of source material. Reciprocal reading techniques can support students to interpret and evaluate information, and investigate key issues so that they can then communicate their findings and judgements.
These resources provide:
An outline that covers why reciprocal reading is a valuable strategy for geography, including advice on structuring the session and teacher modelling
Powerpoint model lesson to introduce students to the concept and roles
A set of reading role cards and discussion prompts
An example reading task text based on lithium mining in Cornwall (suitable for Key Stage 4).
Download resources from the available files list on this page. These resources are available to subscribed, premium members only. Log in, or find out more about a school membership subscription.
---
More support for subject-based literacy
Learn more about our range of disciplinary literacy CPD training, and our focused Developing literacy in geography course.
Download files
You might also be interested in