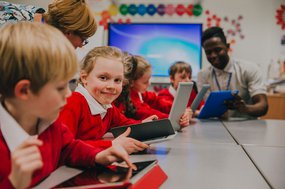 Thank you for attending our Reading for Pleasure On and With Screens workshop! Here you will find the slides and handouts from the session.
If you've just attended, we hoped you enjoyed it. If you're about to attend, please download the following apps onto a tablet or smartphone device if you have one available. If you don't have one don't worry - we will have devices for you to try out on the day.
Apps to download:
Please also bring with you a book (either paper or on an app) that you've read recently and couldn't put down.
Whether you've completed the course or are about to attend, this further reading will also help you expand your knowledge and understanding:
Any questions?
Please email one of our team at schools@literacytrust.org.ukor call 0207 587 3067 and we will be happy to help.
Download files
You might also be interested in