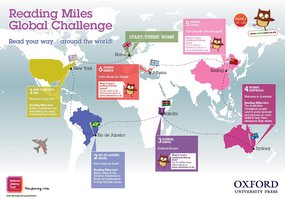 Reading Challenges for schools
Reading challenges can be a great way to encourage reading for pleasure, as well as helping children build up their reading stamina, and read diversely, discovering new authors, genres and forms of reading,
National Literacy Trust Reading Champions reading challenges are designed to help teachers and school librarians with new ideas and inspiration for challenges every term. We aim to provide challenges for all ages across the year, and work with partners to provide robust guidance and beautifully designed resources to help you run each challenge in your classroom or library.
When a new challenge is launched there is a prize to be won by one or more participating schools. However, we also keep resources available on our website after the competition deadline has passed, so that you can reuse resources and choose from a menu of options to find a challenge that best fits your needs.
The Reading Miles Global Challenge resources were developed in partnership with Oxford University Press for a competition we ran in 2012, but you can continue to access the maps, passports and certificates if you'd like to run this challenge in school.
Introducing the Reading Miles Global Challenge
Encourage pupils to read their way around the globe by collecting reading miles in a special reading passport for a personal world tour.
Pupils will collect 500 reading miles for every 10 minutes spent reading, adding up to a a whopping 33,000 miles (or 11 hours) in total! Reading can be completed in school or at home, alone, or with a family member.
The challenge is split into seven journeys, each of which finishes in a 'checkpoint city'.
The following resources are available to download and print off to enable you to take part in the challenge.
A wall map of the world charting the Reading Miles Global Challenge route
A passport to record reading completed
A certificate for the end of the challenge
Postcards for when children reach the checkpoint cities.
Discover our range of Reading Champions challenges
Download files
You might also be interested in