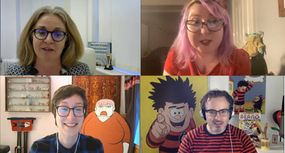 At our inaugural primary conference on 29 March, Everyone back to school: literacy by stealth, we celebrated the ways in which practitioners and experts from within and outside the organization have used elements of popular culture to enhance learning and raise literacy levels. Check out the highlights!
Day 1: The conference commenced with an overview of where we are in the primary education landscape and the role that popular culture can play generally and in recovery post-school closures, followed by an exploration of the role of play in literacy and wellbeing

Day 2: A panel of experts presented on the power of video games in exploring a narrative and a call for esports to become further implemented into the curriculum. This was followed by an exciting cross-section of experts from the world of comics and graphic novels discussing their role in harnessing children's creativity and exploring complex emotions and issues.

Day 3: Experts from the world of sport and education provided a case for the role of sport in raising literacy levels, followed by an exploration by a team of media experts and teachers of the importance of critical literacy in children taking ownership of their writing and navigating the news.

Day 4: Leaders from the world of audio and multimodal literacy explored the importance of audiobooks and podcasts in teachers' literacy toolkits and their practical application in the classroom. This was followed by an exploration of the role of meaningful experiences in enhancing writing quality.

Day 5: At our Saturday morning conference finale Mark Johnson from Staples Road Primary School provided a brilliant account of his implementation of IPEELL across the school using Space Oddity by David Bowie as a focus. Following this, Gabrielle Warren from Start2Finish, a charity based in Canada who have used a holistic approach to breaking the cycle of child poverty which focuses on literacy and physical fitness, presented on The Daily 20 programme. Finally Karl Nova, winner of the 2020 Ruth Rendell Award, hip hop artist and poet, provided a powerful account of his journey to being a hip hop artist.
Download files