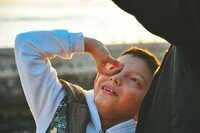 "The beginning is always today."

Mary Shelley
New beginnings in schools
Autumn brings new beginnings, a time of anticipation and the start of a new school year. Kick start your new school year with some fun literacy ideas to help pupils explore their experience of new beginnings and reflect on the emotions they can evoke.
New beginnings: a Hot Topic resource
Our Hot Topic resources help you to effortlessly integrate current events and engaging topics into your English lessons, library sessions or tutor time to foster essential literacy skills such as reading, writing, and oracy. In this resource, you will find:
Book recommendations to read aloud with pupils aged 4-to-14
Writing activities including film-inspired writing and reflective journals
Oracy activities including performance poetry and storytelling prompts
The activities are designed to be adaptable for teachers working across different age ranges, and for the time you have available.
Explore our range of hot topic resources.
Download file
You might also be interested in