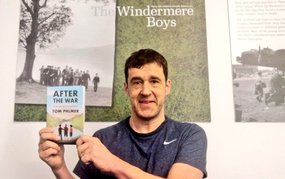 Holocaust Memorial Day commemoration
The National Literacy Trust has teamed up with award-winning author Tom Palmer to produce free resources for use in the classroom or at home, to help schools commemorate Holocaust Memorial Day.
International Holocaust Memorial Day is commemorated on 27 January every year, and this year falls on Saturday 27 January 2024.
Our literacy resources are designed to be used throughout the week beginning Monday 22 January, with pupils aged 9 to 14 (Upper Key Stage 2 and Key Stage 3/P6 to S3).
As in previous years, we are working with author Tom Palmer to plan and deliver a suite of resources and a free live event to support teaching on this challenging subject.
Holocaust Memorial Day online event
On Friday 26 January join us for a free 45-minute online event at 09:30 for pupils aged 10 to 14 and their teachers. The event will feature award-winning writer, Tom Palmer, author of After The War and Holocaust survivor, Mala Tribich.
Sign up to join our online event
Book giveaway
Thanks to generous funding support we are also able to provide 100 schools who attend our event with a free book pack filled with 10 books, including Tom Palmer's books, After The War and Resist . Schools will be notified week beginning Monday 15 January.
Teaching resources for Holocaust Memorial Day 2024
New resources are under development and will be available for you to explore in advance of the commemoration week and our live event. These will be available to download week commencing 8 January 2024.
A note from the National Literacy Trust: By its very nature the subject of the Holocaust is extremely upsetting. Tom's story and our resources are created to be appropriate for pupils aged 9 to 14 (Years 5, 6, 7 8 and 9). There are no graphic descriptions of events. However, we know that we all find the Holocaust tough to comprehend and process, and for some pupils it might be too much for them to hear about. You will know your pupils the best. Once available, please read through each chapter of the story before reading aloud to ensure that you are able to support your class. If relevant, we will highlight any paragraphs which teachers of pupils in Year 5 and 6 might wish to omit. If you use videos of Tom reading the story, please apply the same awareness.
Pupils' work
Schools will be able to submit their pupils' writing inspired by these resources. Some of these will be published on the Lake District Holocaust Memorial Project website. View previous entries here. Teachers of Year 5 and 6 may wish to use discretion in sharing parts of this published work.
More resources
Further Holocaust Memorial Day resources, including free CPD for teachers, can be accessed from UCL's Centre for Holocaust Education. These include resources relating to After The War.
You might also be interested in