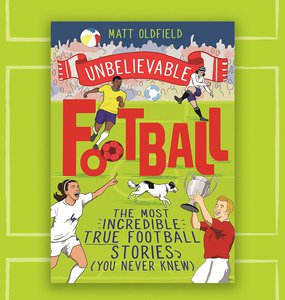 This resource supports students to develop and practise three core comprehension skills. Using the popular topic of football and an engaging, relatable text, students are supported to explicitly identify the skills they can use to make meaning, contexualise what they have read, and develop their own opinions.
The text used is drawn from Matt Oldfield's book Unbelievable Football, winner of the Children's Sports Book of the Year Award in 2020.
Fara Williams is an English footballer who currently plays as a midfielder for Reading F.C. and the England national team. As a young player Fara was homeless, and had to navigate the challenges of a burgeoning football career while also overcoming immense personal barriers. Her inspirational story helps to motivate readers through the engaging topic of football, and also demonstrates how determination and resilience are important in achieving aspirations.
The activities
This worksheet is available to download from the available files section of this page and takes a step-by-step approach, including pre-teaching of key vocabulary and modelling detailed examination of the text. As students work through the activities they will practise skills in:
Looking (retrieving and comprehending information from texts).
Inferring (combining information in texts with other knowledge to form educated guesses, and respond to clues).
Thinking (responding to texts with opinions, and making text-to-self connections).
---
The resource will be useful for developing core comprehension skills with secondary students in any setting. It is drawn from our Game Changers programme, a reading intervention developed specifically for pupil referral units and alternative provision schools. Game Changers uses football-themed activities, texts and role-models to motivate and equip students to read. If you work in an alternative provision setting, find out more about Game Changers.

More support for Alternative Provision settings
Learn about our range of alternative provision programmes designed for students who are excluded, self-exclude or are at risk of exclusion.
Download file
You might also be interested in