Game Changers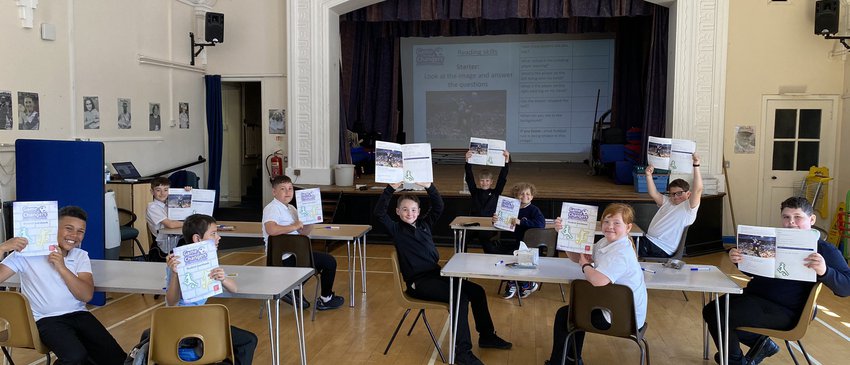 What is Game Changers?
Game Changers is a 20-session reading programme specifically designed for excluded students or those at risk of exclusion.
The programme uses relatable texts, highly-scaffolded resources and (optional) football activities to motivate and equip young people to read.
Contents and costs
For schools with premium membership to the National Literacy Trust, Game Changers costs £125 for a group of up to 10 students. Please email sport@literacytrust.org.uk with your membership details for a discount code. This offer does not include membership.
For schools without premium membership, Game Changers costs £199. This includes premium membership. Worth £100 in itself, membership offers easy access for staff to planning and evaluation tools, fantastic teaching resources, discounts with partners and more.
All schools can purchase additional boxes of resources at a rate of £125 per 10 students.
Buy Game Changers for your school or setting.
If you represent a club community organisation or other charity, please email sport@literacytrust.org.uk for a separate, adapted offer..
Game Changers includes:
Bespoke resources for excluded students

Participants read the stories of role models with lived experience of school exclusion: including famous sportspeople, musicians and young people like themselves.

Books to keep

Schools receive 10, carefully chosen, books for participants to keep at the end of the programme.

Optional football activities

Engaging video tutorials teach students freestyle football skills - as a further engagement tool.

Highly-scaffolded materials

Printed, 60-page workbooks split texts into manageable chunks, and include a variety of engaging activities. Game Changers is designed to require minimal teacher preparation.
Does Game Changers work?
Over two years, we have delivered Game Changers in over 150 settings across the UK - reaching more than 1200 excluded young people. Almost all teachers (94%) say they would recommend Game Changers to other schools.
In terms of reading skills, our evaluation has shown:
One in two (56%) students who start below expected level in reading catch up with their peers over the course of our 20 sessions
Almost two thirds (64%) of teachers said that Game Changers improved their students' reading skills
Meanwhile, surveys of students' attitudes to reading indicate:
More than twice as many young people say they enjoy reading after completing Game Changers compared to before (27% vs. 13%)
Almost 3 in 4 pupils (74%) feel they can be more successful in life, having read the stories from Game Changers
"The Game Changers programme has been fantastic and has engaged a lot of our learners in sport and literacy to a level that I haven't previously seen in a PRU"

Tom Hoskin, teacher, Swindon
Is Game Changers suitable for my students?
Game Changers uses the stories of role-models with lived experience of school exclusion. The programme is targeted at any students with whom these inspirational narratives might resonate. These include:
Excluded students in pupil referral units and other alternative provision settings
Students attending SEN schools for SEMH needs
Students attending internal exclusion units within mainstream schools
Mainstream school students deemed 'at risk of exclusion', or who have recently returned from a period of school exclusion
The programme aims to use stories and themes which engage teenagers - in a way that's accessible to lower comprehension abilities. The reading age is roughly 8+, while the content is suitable for KS3 and above.
Buy Game Changers
Click here to buy Game Changers for £199 (or £125 if your school has current premium membership).
This price includes:
Printed materials and books for up to 10 students
Accompanying powerpoints, teacher guidance and football video tutorials
If you wish to run Game Changers with more than 10 students, additional boxes can be purchased for an extra £125. Each additional box provides:
Printed resources (workbooks, poster, stickers) for 10 more students
10 more books