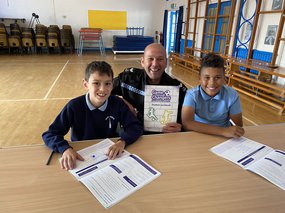 What is Game Changers?
Game Changers is a 20-session reading programme specifically designed for excluded secondary students. Find out more about Game Changers.
On this page, you can find a variety of resources as a pre-purchase sample of the programme.
Sample resources aim to demonstrate the ethos that underpins Game Changers – as well as to indicate its level, format and content. Download all sample materials from the 'available files' section of this page.
If you are interested in running practical football sessions alongside the classroom resources, you can also see a video trailer for these sessions.
Overview document
This four-page overview provides a fuller summary of Game Changers. The document covers:
Outcome objectives
Target audience
Pedagogical approach
Classroom resources
Resources for (optional) football activities
Evidence of impact
Scheme of learning breakdown
Links to the GCSE curriculum
We recommend reading through the overview before looking at any sample materials; as it shows how these resources fit into the wider scheme of learning.
Lesson samples
Introduction lesson sample
The 'introduction lesson' sample is taken from the second lesson of the programme – where students are taught three reading skills (looking, inferring and thinking). You can find:
The entire PowerPoint for this lesson
Screenshots of the accompanying student workbook
Reading lesson sample
After learning three reading skills, Game Changers participants are guided through five inspirational texts about role models with lived experience of school exclusion. The 'reading lesson' sample intends to demonstrate how these sessions work. Over the course of the programme, students spend three lessons on each text. In the sample, you can find:
A PowerPoint example of the first lesson in this sequence
Several screenshots of the accompanying student workbook
The text explored in this example is about Raheem Sterling – a footballer who was once excluded from Primary School.
Stickers and poster sample
Over the course of Game Changers, students can earn stickers for 'respect', 'teamwork' and 'challenge' – three values common to the classroom and the football pitch. Stickers are used to 'boost stats' both on a personalised 'player card' on the back of student workbooks, and in the collective team-sheet on the A1 classroom poster. We have provided a sample image of:
The individual player card on the back of every student workbook
The Game Changers classroom poster
Game Changers format lessons: trial resource
To get a full sense of the way Game Changers guides students through texts, check out our additional worksheets: which tell the story of England footballer Fara Williams.
You are free to trial these worksheets as you see fit with your group
Though the format is the same as Game Changers, other texts are used – so you don't need to worry about overlap if you do ultimately purchase the programme
Practical football sessions
Game Changers also includes resources for practical football sessions: as an optional reward and motivator for engagement in the classroom. These resources encourage students to practise freestyle football 'tricks'. At the end of each lesson you will find a link to a video tutorial for one of ten exciting 'tricks' - as well as a teaching plan organised around this video. You can view a video trailer for these practical sessions.
Buy Game Changers
Click here to buy Game Changers for £199
Or, if your school has current premium membership, see our Game Changers page for how to access a discounted price of £125.
This price includes:
Printed materials and books for up to 10 students.
Accompanying PowerPoints, teacher guidance and football video tutorials.
Tickets for your group to attend an online author visit.
Online training for an unlimited number of teachers.
A 12-month National Literacy Trust premium membership.
If you wish to run Game Changers with more than 10 students, additional boxes can be purchased for an extra £125.
Each additional box provides:
Printed resources (workbooks, poster, stickers) for 10 more students.
10 more books.
Tickets for students to attend an additional online author visit in a subsequent term.
You can email the team if you have further questions.
Download files
You might also be interested in