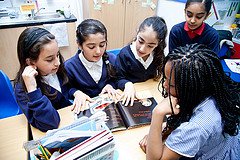 About our libraries webinar series
Would you like to understand how to ensure your library collection and reading experience is as diverse and inclusive as possible?
Our Diverse Libraries webinar series, which has now been running for two years, is designed to develop professional knowledge and share ideas. We welcome library staff and teachers based in primary or secondary schools, or in public and community libraries across the UK.
Webinars are free to attend. We'd recommend you register and attend live if possible, to get the most out of the interactive and topical format. However, we're also sharing recordings of previous webinars for those who weren't able to attend live.
The webinars are embedded in our wider work championing libraries, including our Love our Libraries programme, World of Stories in partnership with Puffin (part of Penguin Random House), and our leadership role in The Primary School Library Alliance.
The webinars will support you to:
Deepen your understanding of diversifying reading materials and widening access in reading spaces
Explore barriers which might be preventing your library collection from being fully inclusive
Learn how books can be used to support conversations with parents and young people about diversity and inclusivity
Hear from a range of experts about ways to respond to challenging conversations that may arise from the books that you share
Be inspired to create a more inclusive reading experience for all children and young people in a library setting, both at school and in the community
Hear best practice examples from those with expertise and experience who are working in the field
Connect with other library staff and teachers from across the country, who are also passionate about this issue
Diverse Libraries webinars 2023/24
We are making plans to return next year to continue to delve further into both barriers to and best practice for diversity and inclusion in libraries.
Be sure to sign up to our Resources and Training news to be informed as dates are announced.
---
Diverse Libraries 2022/23: recordings
This year, based on your feedback, our webinar series explored different topics relating to neurodiversity.
Webinar one: Representations of neurodiversity in children's reading
Featuring acclaimed authors Elle McNicoll, Rose, Robbins, and Abigail Balfe exploring the importance of representation and discussing how neurodivergence feeds in to their writing and the characters in their books.
Webinar two: Every reader counts: developing inclusive reading provision and practice
With special guest author Serena Patel, along with representatives from award-winning children's publisher Barrington Stoke and from Next Page Books, a bookshop with a particular commitment to representations of neurodiversity, including characters with dyslexia.
Webinar three: Handling difficult conversations around representation in children's literature, featuring Patrick Ness.
This session included Librarian Barbara Band discussing how best to address the representation of neurodiversity in conversations about children's literature, and multi award-winning author Patrick Ness exploring why it's important that children can continue to access books which confront complex matters.
---
Diverse Libraries 2021/22 recordings
This series of webinars focused on ethnicity and heritage and it's representation within books, as well as bringing to the forefront authors and illustrators of colour, and publishers who champion their work . It looked at ways to better reflect a diverse society, ensure children see themselves represented, and explored the role schools and libraries can play in prompting meaningful conversations about race and prejudice and in the promotion of anti-racism.
You can watch recordings of these events below.
Webinar one: Bringing Diversity to Your Library Collection
This session explores ways to reflect on and make additions to library catalogues in order to better reflect a diverse society focusing in particular on books by writers and illustrators of colour. You'll hear about key research from The National Literacy Trust, gain insight on the latest titles available from a range of publishers, including Penguin Random House, and explore best practice cases studies with Libraries Connected.
Webinar two: Dealing with difficult texts and promoting anti-racism
Our second session supports teachers and library staff to further understand the different ways they can support readers when accessing problematic texts from their collections. Explore a range of methods to promote anti-racism through a study of literature and contribute to a discussion about the role that schools and libraries can play in prompting meaningful conversations about race and prejudice.
Webinar three: Diversity Beyond the Bookshelf - Engaging library and school communities
The third and final webinar of the series looks at the wider role of schools and libraries in supporting diversity outside of their collections through community empowerment. It explores a range of community engagement case studies.
Download file