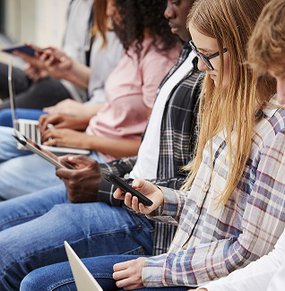 This report presents insights into the relationship between literacy, critical digital literacy engagement and wellbeing. It reviews the literature alongside new information gathered from focus groups, interviews and a survey of 7,494 young people aged 11 to 16 in 2021.
Key findings from the survey:
Young people's on and offline literacy practices inform each other.
More than half (54%) of young people say they find more to read that matches their interests online, but online activities inspire wider reading for around 3 in 5 (59%).
Although around 1 in 5 young people write fiction outside school both on paper and on screen, fewer than 3 in 10 (29%) say they feel confident posting their own writing online.
Only 1 in 2 (53%) young people say they take time to consider whether news stories are true or not.
Most (67%) young people are confident that they know how to check if information they find online is true. However, while 3 in 5 (59%) say they wouldn't share a news story if they weren't sure it was true, only half say they actually take time to consider if news is true or not.
Online communication can help support and empower some groups of young people.
More boys than girls feel that their online life opens up lots of possibilities for them (46% vs 36%).
More young people from lower-income backgrounds say that using social media makes them feel like they can make a change in the world (32% vs 26% of those from higher-income backgrounds).
Literacy engagement is associated with positive critical digital literacy attitudes and behaviours. In turn, nearly three times as many young people with high critical digital literacy scores have high mental wellbeing.
7 in 10 (71%) of young people with high literacy engagement take time to think about whether news stories or not, compared with 2 in 5 (41%) of those with low literacy engagement.
Compared with young people with low critical digital literacy engagement, nearly three times as many young people with high critical digital literacy had high mental wellbeing (11.6% vs 30.2%).
We would like to thank The Sir Halley Stewart Trust for their support for this research, which has informed the development of resources to help schools support effective online communication in young people.
Download our resources for teachers
Read our blog on the topic