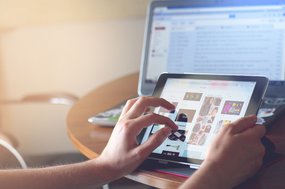 National Literacy Trust research explored young people's (aged 11-16) literacy and critical literacy attitudes and behaviours when navigating online environments.
Responding to the core findings of the research, this discussion-based classroom activity provides pupils aged 11-14 (Key Stage 3) with the opportunity to explore their online literacy behaviours and attitudes, considering the impact upon their own and others' wellbeing. Pupils will evaluate the positive and negative effects of social media and consider what it means to be a responsible social media user.
The activities encourage pupils to reflect upon the following themes:
Critical literacy: the importance of evaluating the trustworthiness of information online and seeking multiple viewpoints
Empowerment: the potential of social media to aid campaigning and changemaking
Communication: the literacy skills and etiquette required for online communication
Wellbeing: the impact social media can have upon wellbeing
This resource includes
Discussion activity outline (with starter, main activity and plenary) including 'take it further' writing opportunities and an introduction for teachers
A PowerPoint to use alongside the activities to aid discussion
These resources are free to download from the available files list on this page. Note that you will need to log in or create a basic, free account to access them.
Download files
You might also be interested in