Amanda Holland, English teacher at Robert Clack School in Dagenham, first heard about Skills Academy from her Head of Department.
Robert Clack School have run the Premier League Reading Stars scheme for a number of years and had found it vital in engaging boys in reading. "I thought it would be really useful to have more football-focused reading programmes," said Amanda. "I'd actually been creating my own football resources to fill the gap because I knew they were really effective for disengaged pupils. When we heard about Skills Academy we were really excited and signed up straight away!"
Amanda has been delivering Skills Academy with a group of 15 Year 8 students. "The students in the group are some of our less capable readers," explained Amanda. "Some of the students have reading ages as low as an eight-year-old. Skills Academy is ideal for students like this as it breaks up reading into manageable chunks, making it much less daunting."
Amanda has been delivering Skills Academy in weekly Skills for Life lessons, which teaches Robert Clack students key life skills including literacy and numeracy. Many of the students in the group taking part in Skills Academy are boys.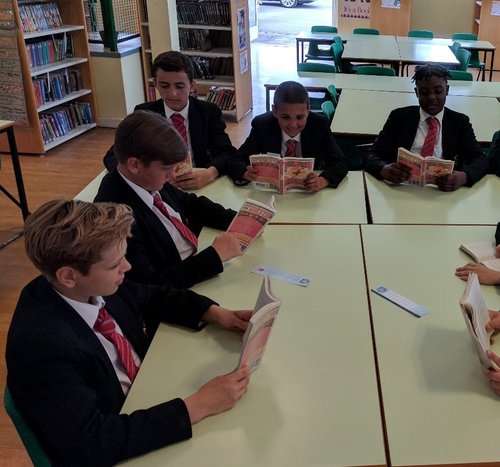 "Using football to motivate adolescent boys to read works so well," said Amanda. "At this stage in their lives they often become apathetic about reading, so giving them reading material they like is crucial.
"They love the Skills Academy videos which teach them tricks once they've completed a lesson, but they also enjoy the actual reading parts because the texts are all about football too."
As well as being an English teacher at Robert Clack School, Amanda also teaches two lessons of P.E. a week. This means that as well as helping students with their reading, she can also help them when it comes to practising the football skills they've learned through Skills Academy.
"After we'd completed all eight lessons, we did a final lesson outside focusing on oracy skills and practising the tricks the students had learned. I paired up the pupils and one practised a trick while the other commentated on the student practising. The students enjoyed honing their skills and commentating on others helped them to practise their English language skills too."
Skills Academy has proved extremely successful for the Year 8s at Robert Clack School. "I monitored the students' progress throughout the programme," explained Amanda. "They took a reading test at the start of the programme and one at the end. The results were amazing – every single student had progressed in reading age.
"There were some particularly stand-out results; one young man has progressed three reading ages since taking part in Skills Academy, going from the reading age of a ten-year-old to reading at a 13-year-old level! We've also had two boys go up two reading ages – it's been fantastic."
Amanda has collected feedback from the students who took part, who were very positive about the programme. They said:
"I really enjoyed how we all learned how to pronounce different words and share our thoughts about that word and that everyone was not very confident but everyone tried their best.  We worked as a team to make our reading skills better."

"I would say it's fun.  It gets you better at reading and you will become more comfortable reading and asking and answering questions in classes."

"Practising summarising skills encouraged me to read larger texts."

"I would encourage people to take part in the Skills Academy program by telling them what I learned this year, and that is reading could actually change your life. You can get more help on your reading skills and [Skills Academy] can also help with your football skills."

"I enjoyed how they the teacher read books with us and did some football skills with us."
Amanda has also received positive feedback on the students' progress from other English teachers at the school, who have reported back that the students' attitudes to reading have improved, and that the students are increasing the amount that they're reading in their own time.
"Delivering Skills Academy has been my favourite part of the year," said Amanda, who will be running the programme again next year. "We'll be running it again with the current group in their lunchtimes, and we'll also be starting a new Year 8 group. I'm really looking forward to it!"
Find out more about Skills Academy
See more sport and literacy programmes and resources