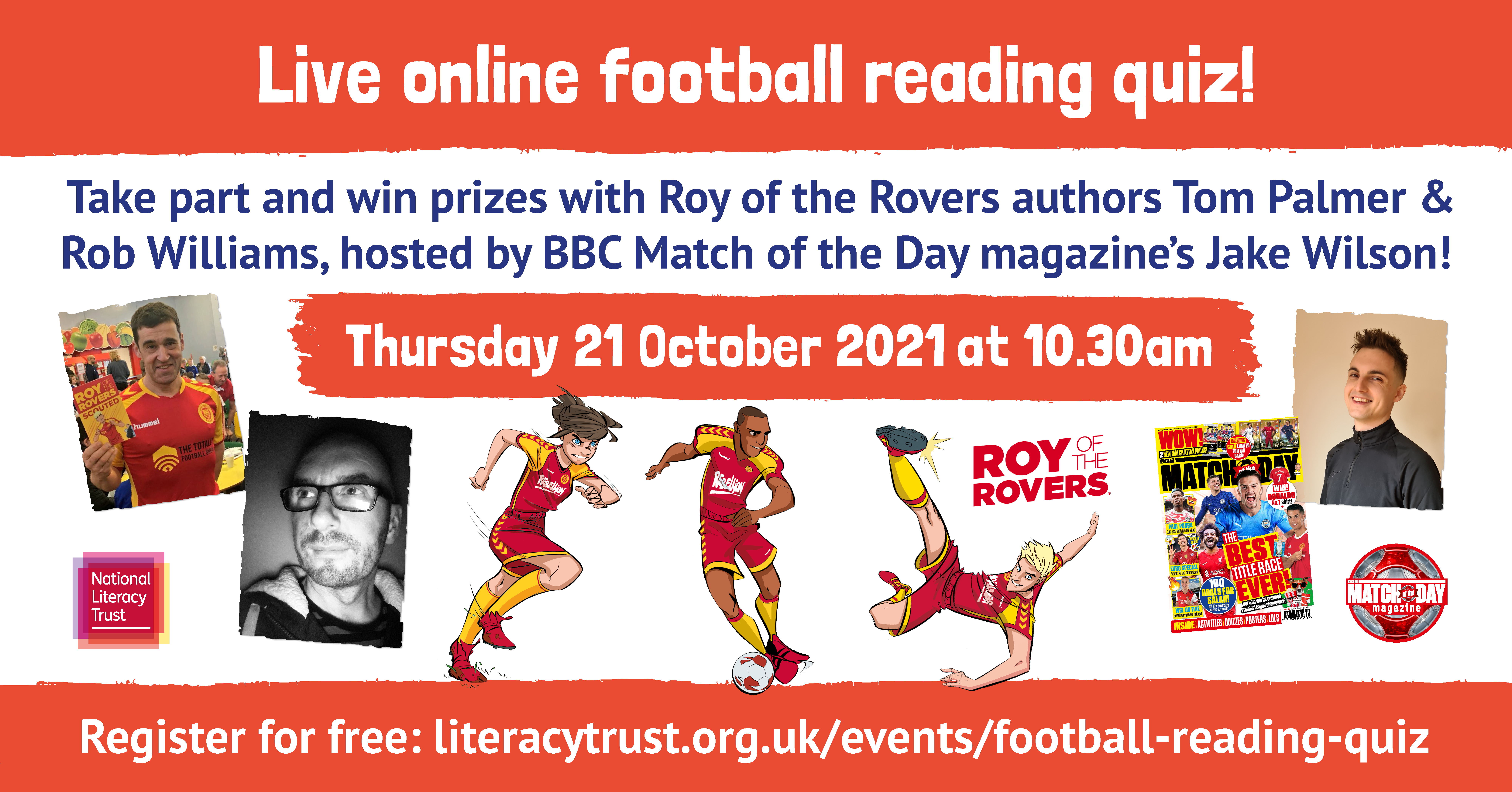 Following our latest research that shows that only 1 in 2 young people enjoy reading, it's time for Roy of The Rovers to take his legendary leadership from the pitch to the classroom.
We've teamed up with Roy of the Rovers publisher Rebellion to give away 5,000 copies of Roy of the Rovers: Foul Play and run an online live event with the popular sporting series' authors Tom Palmer and Rob Williams as well as Jake Wilson from BBC Match of the Day magazine.
We hope the book donations and digital quiz will inspire young people to read at a time where there are still significant numbers of children and young people who do not read in their spare time.
The activities come as we found just 1 in 2 (51.5%) children and young people aged between 8 to 18 enjoy reading. While this represents an increase from January 2020, when we recorded our lowest-ever levels of reading enjoyment (47.8%), it is lower than the percentage we recorded during the spring lockdown in 2020 (55.9%).
Alongside Rebellion, we will distribute the 5,000 books across seven of our key Hub areas. The Hubs receiving copies are: Blackpool, Bradford, Doncaster, Manchester, Middlesbrough, Nottingham and the North Yorkshire Coast.
Across the country, hundreds of primary schools and thousands of Key Stage 2 pupils are invited to our free online quiz from 10.30-11am on Thursday 21 October. The quiz is going to be presented by BBC Match of the Day Magazine's Jake Wilson and co-delivered by authors Tom Palmer and Rob Williams.
Classes can join in the quiz live through engaging polls and request shout-outs due to the event's dynamic format, and have the opportunity to win both books and the exclusive Melchester Rovers shirt bearing our charity logo. The fictional team's kit follows the more recent tradition of football clubs proudly bearing charity shirt sponsors.
The event is the latest in our long partnership between the publisher Rebellion and author Tom Palmer. We've worked with Tom Palmer to bring the magic of author events to schools in person for many years, pivoting to digital events and live story writing since the pandemic, and he is a dedicated ambassador for getting children into reading and writing through their love of sport.
We are so pleased to be donating 5,000 copies of the brilliant 'Roy of the Rovers: Foul Play' to children in disadvantaged communities across the country. The new research from the National Literacy Trust shows that a little over half of children enjoy reading. There are so many barriers that prevent children and young people from developing this life-enriching skill, ranging from a lack of access to reading materials to simply never connecting with a book that interests them. We hope the donation of 5,000 copies of a book that appeals to sports lovers will remove two of those barriers and spark a lifelong love of reading. We look forward to giving away even more copies and THAT SHIRT at the live event at 10.30am on Thursday 21 October!

Jim Sells, Sport and Literacy Programme Manager at the National Literacy Trust
Roy of the Rovers has been a thrilling way into reading for generations of readers, not just in the UK but around the world. We are delighted that we can share Roy's themes of hard work, struggle and fair play with new readers in partnership with the National Literacy Trust. It is especially important where access to books can be difficult and for children whose footballing passion could be the key to opening up the world through reading.

Chris Kingsley O.B.E., Rebellion co-founder and Chief Technology Officer