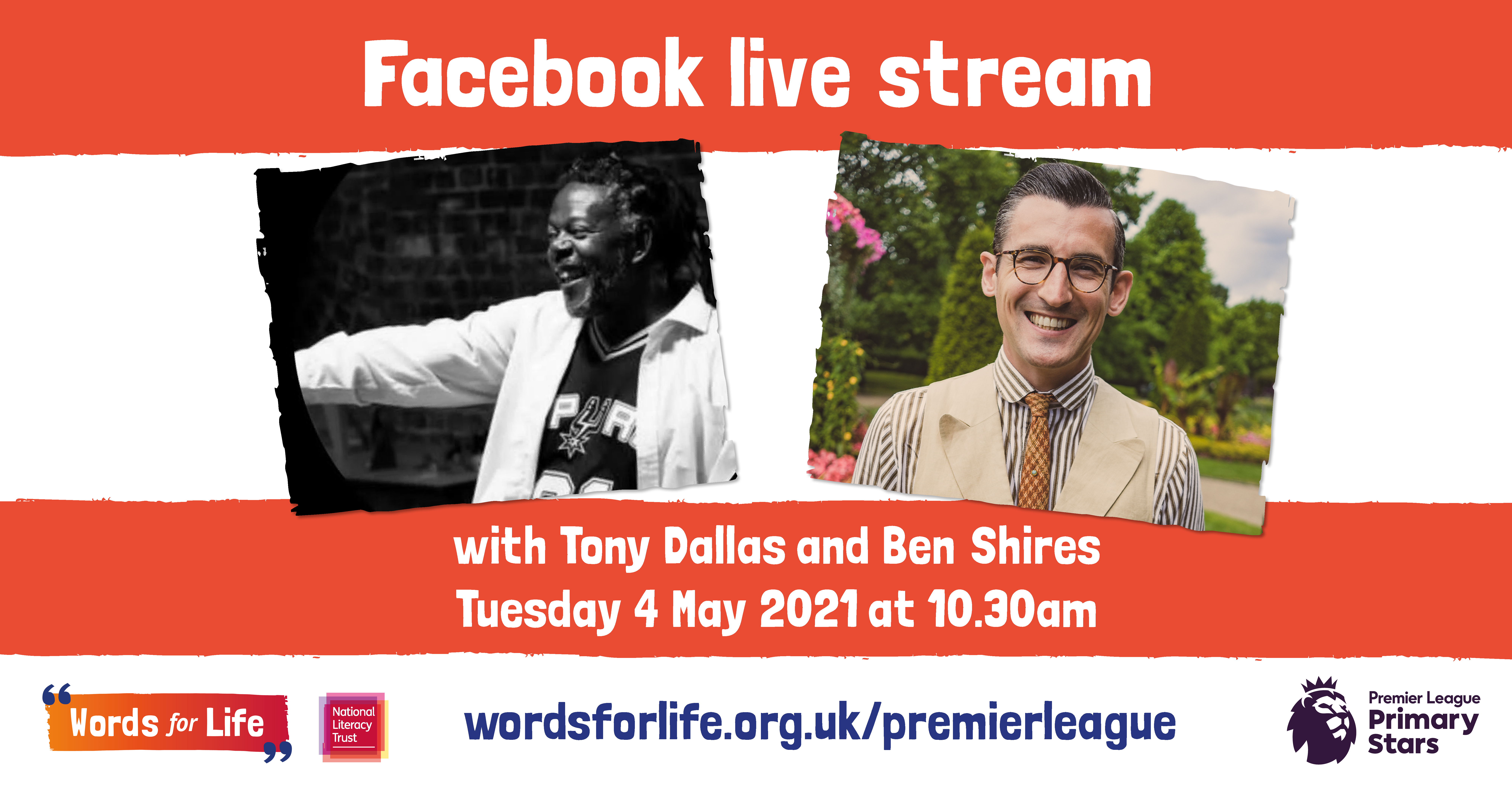 Next week, on 4 May, following the runaway success of our World Book Day live quiz event (which 20,000 pupils watched!), we're very excited to be joining forces with Premier League Primary Stars and storyteller and mindfulness coach Tony Dallas. We are bringing children another fun Facebook Live event hosted by CBBC's Ben Shires as well as a storytelling challenge for children aged seven to 12.
Tony Dallas has been telling stories for more than two decades all around the world and also runs workshops for young people, helping them to be the very best of themselves. We're delighted that he will be joining the brilliant Ben Shires on 4 May for a free live event everyone can tune into!
You will find all the activities and information on: wordsforlife.org.uk/premierleague.
Facebook Live interview with Tony Dallas and Ben Shires
Children and their families can tune into the Facebook Live session on the National Literacy Trust Facebook page with Ben Shires and Tony Dallas on 4 May at 10.30am.
During the live event Tony will tell stories, lead a fun activity, answer comments and questions from the audience and do some shout-outs! There will also be a chance for the audience to help Tony complete a story and hear about how he trains young professional footballers to tell theirs!
Don't worry if you miss it, you can watch the interview again on our Facebook page any time or on our Words for Life site – you just won't get a shout-out or be able to ask a question!
Challenge
As part of this event, Tony will be launching a challenge to help children tell their very own stories. Children will be tasked with either writing or drawing out their own tale, or completing one of Tony's and telling it to their families and/or friends.
Two lucky pupils will then be chosen from the prize draw to receive a box of books for their schools.
To be in with a chance of being selected, parents or teachers will be asked to tweet pictures of their 'Story Sheet' to @PLCommunities using #PLPrimaryStars or e-mail PLPrimaryStars@premierleague.com.
Don't forget to share your amazing stories with us by sharing them on social media! Tag @Literacy_Trust, @PLCommunities and use #PLPrimaryStars, or emailing them to PLPrimaryStars@premierleague.com.
See you there!