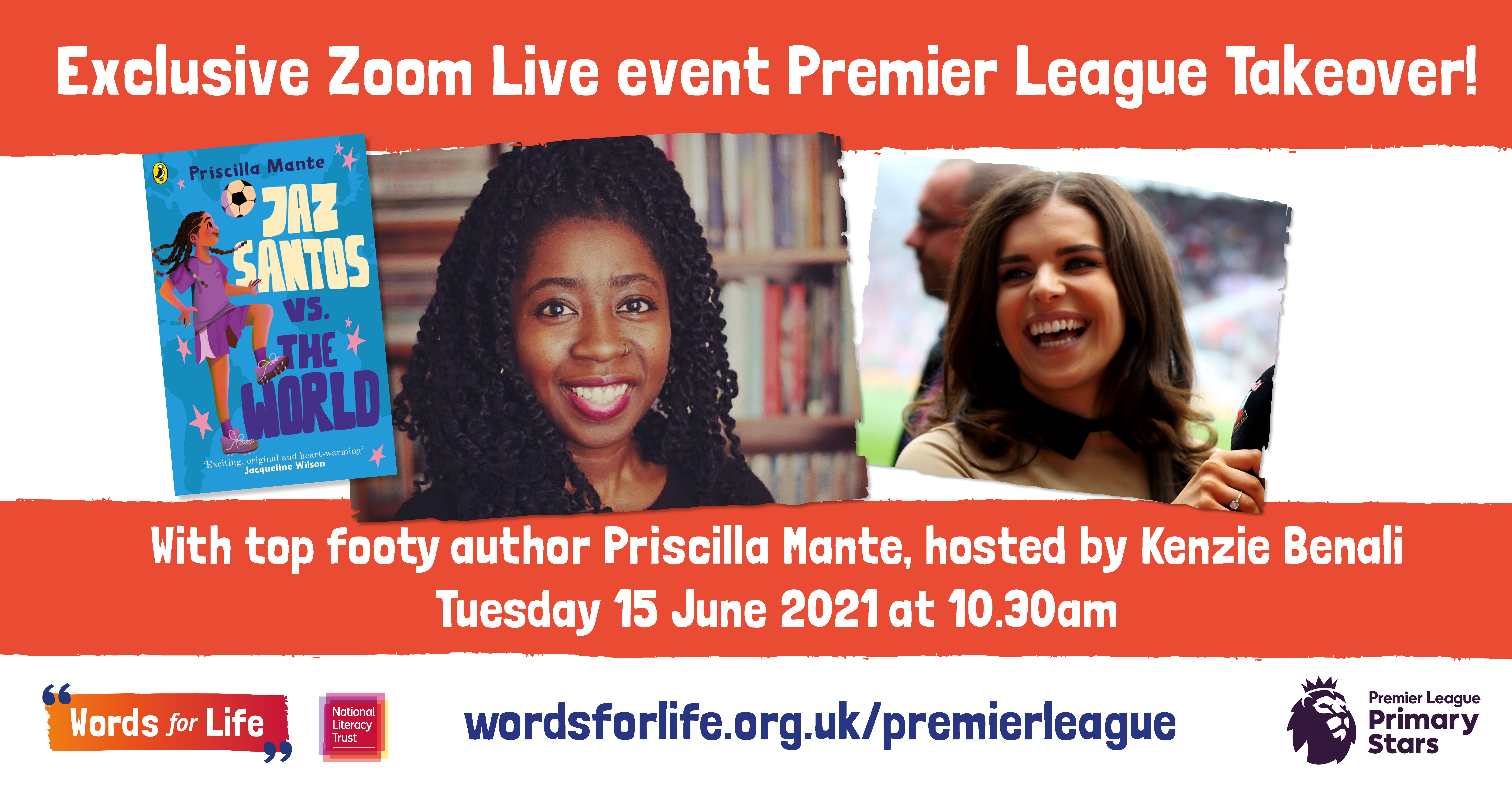 On 15 June, we're excited to be teaming up with Premier League Primary Stars and author Priscilla Mante to bring children aged 7-11 a fun live event, football-themed activities, the first three chapters of Priscila's latest book and a new challenge!
You will find all the activities and information on wordsforlife.org.uk/premierleague.
Live interview with Priscilla Mante
Schools are invited to tune into the live Zoom webinar session with Priscilla Mante and presenter Kenzie Benali at 10.30am on Tuesday 15 June.
Schools can register securely to take part in the event here
Priscilla will also provide a mini workshop all about how to achieve your dreams, and how to create a dream team! Kenzie will then ask her questions taken from the live audience.
Don't worry if you miss it, you can watch the interview again on our Words for Life page – you just won't get a shout-out or be able to ask a question!
Achieve your dreams challenge
As part of the event, children will have the chance to take part in a challenge called 'Achieve your dreams!'. Pupils will be asked to describe three steps to realising the thing they want most in the world – or for the world!
To support this, there will be downloadable resources you can access from the Premier League Primary Stars activity page.
To be in with a chance of winning a box of books, parents or teachers are invited to showcase pupils' work by tagging @PLCommunities using #PLPrimaryStars on social media or e-mail PLPrimaryStars@premierleague.com.
Two lucky pupils will then be chosen from a prize draw to receive a box of books for their schools.
What's more, at the end of the week a "Star of the Week" will be chosen to be featured on the Premier League Primary Stars website!
Free reading
Thanks to Puffin Books, children can also read the first three chapters of Priscilla's book Jaz Santos Vs The World!
Families can access and enjoy the title for free via our Premier League takeover page.


Visit the National Literacy Trust's Words for Life website for more reading and writing activities to engage children and support their learning at home.
Visit the Premier League Primary Stars website for more football-themed home learning activities for children and families to enjoy, including fun quizzes and Family Challenges.