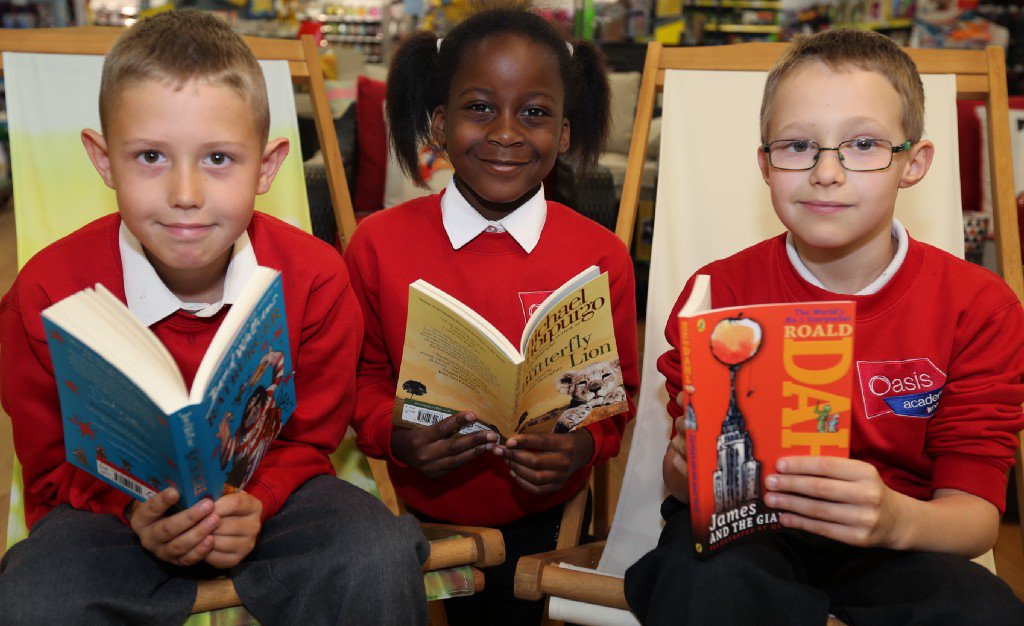 Update - We have now received a response to this letter from the Secretary of State for Education, Gavin Williamson. He confirms the government's support of literacy saying 'I agree that literacy is an essential foundation for children's future success. Ensuring that every child has access to world-class teaching of literacy will form a vital part of this government's mission to level up' education across the country.' He has also committed to attending the business summit we are holding in July. You can read the full letter here.
---
Today, with the support of 29 businesses, including, Penguin Random House, Experian, and The British Land Company PLC, we release an open letter to the government to recognise the business community's support of children and young people's urgent literacy needs throughout the pandemic.
We estimate over three million children benefited from businesses' backing during lockdown, through activities ranging from book donations to community initiatives and funding of essential programmes in light of the disruption to their education.
Early evidence shows the devastating impact of COVID-19 on children's learning and literacy. The Department for Education concluded after the first lockdown that all year groups had experienced a learning loss in reading. In primary schools alone this loss averaged between 1.7 and 2 months and there have since been two additional lockdowns and necessary school closures.
We understand that disadvantaged communities faced additional challenges accessing educational resources and support in the last 14 months.
Analysis by the Education Endowment Foundation has found that school closures are likely to reverse all progress made in the last decade to narrow the attainment gap between children from disadvantaged backgrounds and their peers.
The National Literacy Trust and signatories hope the government engages the business community and the role it can play in its upcoming recovery programme for literacy which is expected to be announced imminently.
We know that a multi-layered strategy is essential for literacy recovery – the education sector cannot be expected to turn this crisis around alone. We invite the Secretary of State of Education and Department for Education Ministers to attend our business summit in early July to discuss how the public and private sector can work together to best support children and young people. Addressing the literacy gap has never been more important.

Jonathan Douglas CBE, Chief Executive of the National Literacy Trust
Read the full letter here.
Signatories include:
ALCS | Barbara Hayes | Deputy Chief Executive
Beano Studios | David Guppy | Chief Executive Officer
Bonnier Books UK | Perminder Mann | Chief Executive Officer
Browne Jacobson LLP | Richard Medd | Managing Partner
Bupa Foundation | Alex Cole | Chair
Experian | Colin Grieves | MD Marketing Services
Food and Drink Federation | Ian Wright | Chief Executive
Hachette Publishing Group | David Shelley | Group CEO
KPMG | Claire Warnes | Partner and Head of Education, Skills and Productivity
Lancôme UK & Ireland | Giovanni Valentini | General Manager
London First | Paul Drechsler CBE | Chair of London First
McDonald's Restaurants Ltd | Andrew Moys | Vice President of Communications and Corporate Affairs
Moto Hospitality | Ken McMeikan | CEO
Mott MacDonald | Julie Dakin | Metros & Civils Regional Director
Octopus Energy | Rebecca Dibb-Simkin | Global Director Product and Marketing
Oxford University Press | Jane Harley | Policy and Partnership Director
Penguin Random House UK | Jo Prior | Managing Director
Penguin Random House UK | Tom Weldon | CEO
Provident Financial Group | Malcolm Le May | Chief Executive Officer
Renaissance Learning | John Moore | MD, UK & Australia
Simon and Schuster | Rachel Denwood | Managing Director Simon & Schuster Childrens Books
Slaughter and May | Dominic Robertson | Partner
Springer Nature Group | Joyce Lorigan | Global Head of Corporate Affairs
The British Land Company PLC | David Walker | Interim Chief Financial Officer
The British Retail Consortium (BRC) | Helen Dickinson OBE | Chief Executive
The Very Group | Ben Fletcher | Chief Financial Officer
Tonies | Lucia Kreuzer | GM UK & IE for Tonies UK
Turner & Townsend | Patricia Moore | Managing Director, UK
Walker Books | Ed Ripley | Marketing Director
WHSmith Group Charitable Trust | Carl Cowling | Group Chief Executive