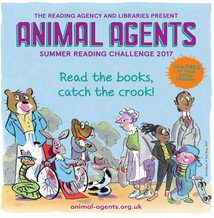 A launch event for 2017's Summer Reading Challenge is to take place at Middlesbrough's Central Library.

The event will take place on Saturday, July 15, 12pm-4pm at the Central Library and is designed to encourage primary age children to read during the summer holidays.

There will be a visit from illustrator Liz Million from 12pm-12.45pm, ukelele playing poet Paul Cookson will perform from 1pm-1.45pm and local author Peter Brunton will introduce his books from 2pm.

There will also be a creative writing workshop, hosted by 6e publishing from 2pm-4pm.
Every child who reads six books will be entered into a prize draw.

Ruth Cull, Library Development Officer for Middlesbrough Council, said
"The challenge is a great way for children to maintain and improve their reading skills over the summer. We'd love to see more children than ever take part and invite all children aged 4 to 11 to join the fun."

Allison Potter, manager of the National Literacy Trust Hub in Middlesbrough, said:
"The Summer Reading Challenge is a great opportunity for families to spend time together at their local library, reading some fantastic children's books, hopefully off the Middlesbrough 100 Best Books list."

At the event, families will be encourage to vote for their favourite titles on the Middlesbrough 100 Reads list. Once you've voted, you can enter a prize draw to win a fantastic book bundle (worth over £50)!