We've joined forces with Premier League Primary Stars and children's author Dan Freedman to bring children a week-long series of free football-themed activities and challenges to inspire them to get reading and writing at home.
From today, Premier League Primary Stars is taking over over our Family Zone website for one whole, fun-filled week, offering a series of exclusive videos, challenges, activities as well as a free ebook for children and their families to enjoy at home.
Launching as part of the weekly Premier League Primary Stars Family Challenges to engage children in home learning, Dan Freedman (best known for his hugely popular series of Jamie Johnson football novels) has tasked children to create their own fictional character that could be part of a football-themed story.
Families can download a free activity pack filled with top tips and ideas to get started!
What's more, children who submit their original characters for the challenge will be in with a chance of receiving a special Premier League reward for their school.
Details will be announced at a live Q&A event on the National Literacy Trust's Facebook page on Tuesday 2 June at 11.30am (BST) featuring Dan Freedman and CBBC Match of the Day Kickabout presenter Ben Shires. At the live event, children, families and teachers will be able to ask the duo questions about football, reading and writing.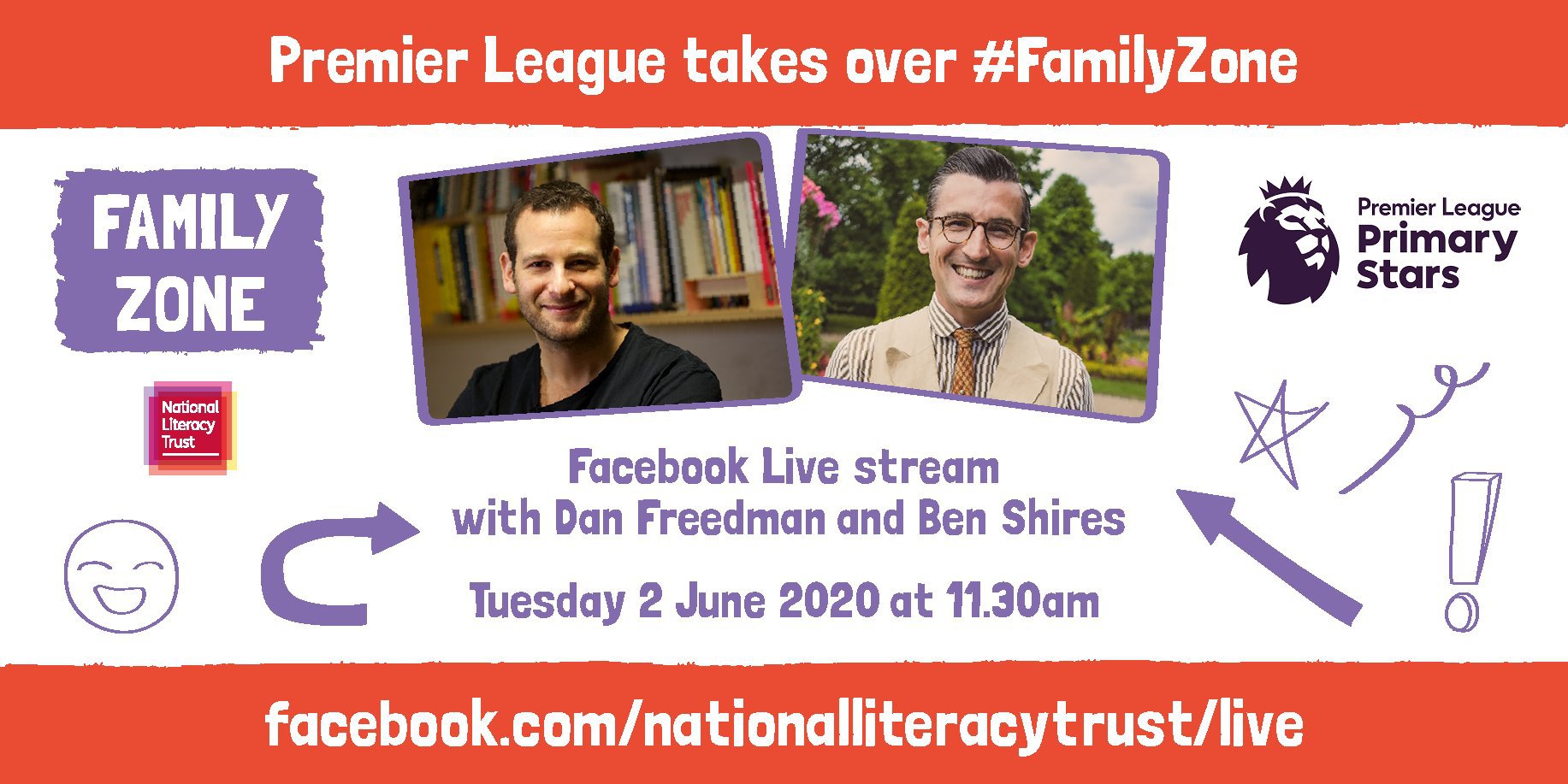 Other exciting football-themed activities that will be available on our Family Zone website this week include:
A video of Dan Freedman talking about his journey from reluctant reader to children's author and reading an excerpt from his very first Jamie Johnson book, The Kick Off (Scholastic UK)
A free ebook download of The Kick Off (Scholastic UK) for children to enjoy
We know that football has the power to inspire kids to get reading and writing, so we're thrilled to team up with Premier League Primary Stars and Dan Freedman to bring children and families an exciting series of football-themed activities to enjoy together at home. These can also be done in the classroom for children who are starting to return to school. We can't wait to read all about the fantastic characters children will create and hear their questions for Dan and Ben in the Facebook Live Q&A.

Jim Sells, Sport and Literacy Programme Manager at the National Literacy Trust

Visit the National Literacy Trust's Family Zone for more reading and writing activities to engage children and support their learning at home: literacyfamilyzone.org.uk
Visit the Premier League Primary Stars website for more football-themed home learning activities for children and families to enjoy, including fun quizzes and Family Challenges: plprimarystars.com/for-families/