Last week, special guests from Lord Blyton Primary School stepped inside the world of work with global leading tech platform, NBS.
Year 1 pupils from Lord Blyton got a chance to explore the Newcastle offices of tech firm, NBS, as part of our Words for Work: Dream Big programme.
Dream Big is designed for children in Key Stage 1 (age 5-7) and develops literacy skills, raises aspirations, and challenges stereotypes. Alongside classroom activities, children enjoy a trip to a nearby office to help them imagine their futures and discover what life is like in a workplace.
The little ones explored the office environment through "secret missions" which challenged them to find everyday items and think about ways they help grown-ups do their jobs. Volunteers from the NBS helped children understand what their jobs involved, and talked about different types of jobs using the book What Do Grown-ups Do All Day, by Virginie Morgand, as a prompt. Staff also took the children on a tour of the office, where they got to see work happening in action.
Introducing children to the world of work at an early age is influential in broadening horizons. Gender stereotyping exists from the age of seven, so we help children challenge gendered ideas about job types and encourage them to think about their futures in a new light.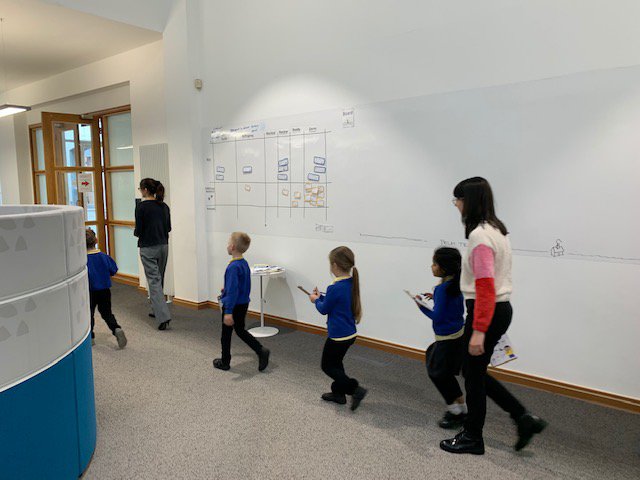 "It was a real delight for us to host the Words for Work: Dream Big event at our NBS office in central Newcastle. All our volunteers and wider colleagues loved showing our little visitors around the office and completing the detective tasks. Spending time with such a young audience and sharing our world of work and building literacy skills at this key stage was a great thing to do."

Tim Bellhouse, Head of Customer Support at NBS
"[The visit was a] great opener to [the] topic, very hands on offering first-hand experience. Well organised and very well pitched to age group"

Teacher, Lord Blyton Primary School
A huge thanks goes to NBS for making the day possible! If you're interested in opening up your office for the day, or would like to find out more, be sure to check out our Works for Work: Dream Big page.
Find out more about Dream Big