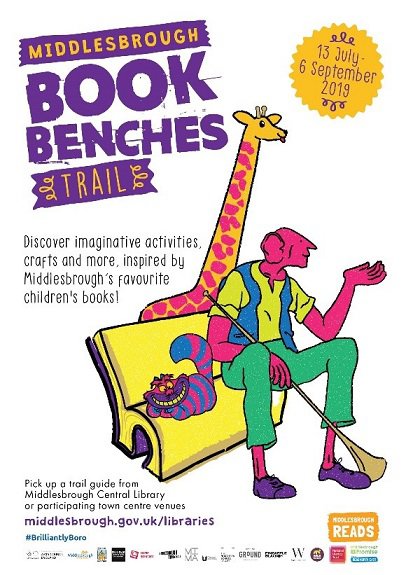 A selection of eye-catching BookBenches have popped up in the centre of Middlesbrough to celebrate the town's best-loved children's books to inspire families to read for pleasure.

More than ten open book-shaped benches have been designed and painted by Middlesbrough community groups and schools, and are now being displayed at various locations around the town. The designs are inspired by the Best Reads book list, which was voted for by local children and compiled by our Middlesbrough Reads campaign and Middlesbrough Council in 2017.

Our Hub in Middlesbrough, known locally as Middlesbrough Reads, has been working for more than five years to improve literacy levels in the area, which are among the worst nationwide. The campaign is amplified by the local council-led programme, the Middlesbrough Promise, which aims to improve the life chances of young people through reading.

The BookBenches are funded by Arts Council England and supported by a number of local partners. They are modelled on the following well-loved stories and can be found in the following places:
Harry Potter and the Philosopher's Stone by JK Rowling – designed by local families visiting Middlesbrough Central Library and found outside the library
The Hobbit by JRR Tolkien and The Book Thief by Markus Zusak – both designed by Ellie Bartlett and Alex Ferguson-Darnell from the Northern College of Art and displayed outside the library
Alice in Wonderland by Lewis Carroll – designed by the Trinity Youth Project and on display at Pineapple Black Gallery
The BFG by Roald Dahl – designed by participants at Hemlington Hub Library and displayed at Dundas Shopping Centre
Charlotte's Web by EB White – designed by Year 5 pupils at Captain Cook Primary School and found at Off the Ground coffee shop
Dear Zoo by Rod Campbell – designed by families at Thorntree Hub Library and on show at Waterstones
The Gruffalo by Julia Donaldson – designed by Year 5 pupils at St. Thomas More RC Primary School and housed at Hillstreet Shopping Centre
Holes by Louis Sachar – designed by Bridge Hill Day Service and found at the town hall
The Tiger Who Came to Tea by Judith Kerr – designed by Breckon Hill Primary School and on display at MIMA
We're Going on a Bear Hunt by Michael Rosen – designed by participants at Acklam Hub Library and shown at the Dorman Museum.
Children are being encouraged to visit all the benches as part of a trail and be in with a chance of winning a bundle of books. To take part, families should collect a trail map form Middlesbrough Central Library, find the missing letter hidden at each bench to spell out the name of a popular children's book character. Completed trail maps can be handed back in at the library or at the Dorman Museum by Tuesday 10 September.

The BookBench trail comes as Middlesbrough Reads announced the winner of its book review competition, also inspired by the Best Reads list. Pupils across the town were gifted with age-categorised reading logs where they could review their favourite book from the list to be entered into a prize draw. An iPad Mini, generously donated by Stagecoach North East, was presented to the winner, Ameera Naas from Newham Bridge Primary School.
Find out more about Middlesbrough Reads