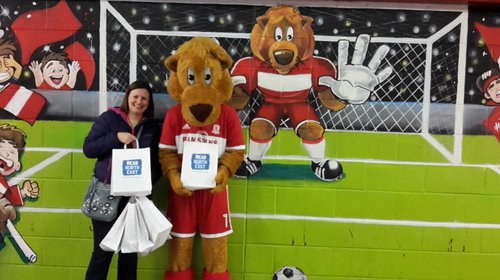 Middlesbrough Football Club has been awarded an EFL Family Excellence Gold Award for activities at the Riverside Stadium's Generation Red Family Zone (GFRZ), which have included our Middlesbrough Reads and Read North East book giveaways. 
The club is one of 56 teams to be granted the Family Excellence Status by the English Football League (EFL) and one of just 10 other clubs to achieve the Gold Award. This comes in response to a 37% increase in junior season ticket sales over the past 10 years at EFL clubs and the fact that 20% of all EFL club match attendees are now under 16 years old. 

Middlesbrough Football Club (MFC) and its players have been long-running supporters of our Middlesbrough Reads campaign, since it launched in 2013. The club has supported initiatives such as Dad reading selfies, which was backed by top MFC player George Friend, and allowed us to give away thousands of books to the children in the newly-accoladed GFRZ at its home ground.

Since the establishment of our Read North East campaign in 2017, which encourages families across the region to share stories together, MFC has supported more book giveaways at derby matches against Sunderland AFC, helping us to turn more football fans into reading fans. 

MFC Chief Operating Officer, Mark Ellis said:
"This is great recognition for the club and for the hard work undertaken by many to make the GFRZ such a popular and welcoming place for families to enjoy their matchdays. The GRFZ is something we are very proud of as a football club."

Middlesbrough Reads Hub Manager, Allison Potter said:
"Huge congratulations to everyone at Middlesbrough FC for winning this very special award! The GRFZ has always been a great location for our book giveaways as we know that the excitement and passion that surrounds football can be a great way to motivate and inspire young people to improve their literacy skills. We're looking forward to many more brilliant book giveaways in the future!"

Find out more about Middlesbrough Reads and Read North East.