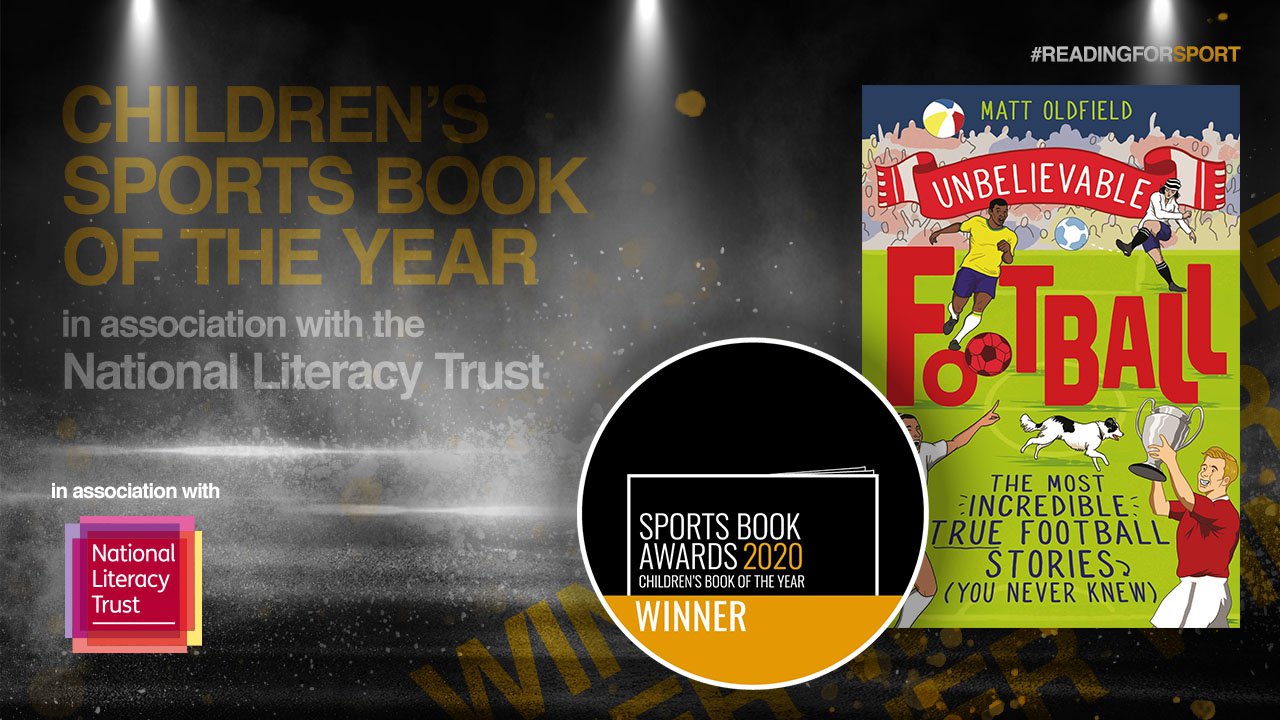 The results are in, VAR has been checked and Matt Oldfield has been named the winner of the Children's Sports Book of the Year Award with his book, Unbelievable Football!
Earlier this year, we launched a new charity partnership with the Telegraph Sports Book Awards, a major annual promotion for sports writing and publishing now in its 18th year. As part of our partnership, a brand new Children's Sports Book of the Year category was created.
The new award category was created to celebrate authors whose sporting stories have encouraged children to get into reading through their love of sport. This evening, it was announced that Matt Oldfield had been chosen as the winner if the inaugural award with his book Unbelievable Football which is Illustrated by Ollie Mann and published by Wren & Rook (an imprint of Hachette Children's Group).
Unbelievable Football is about the most incredible, sometimes ridiculous, and always completely unbelievable true football stories you never knew. Packed with fascinating facts alongside engaging illustrations, it is both a fun and informative read for children who love football, particularly reluctant readers.
A worthy winner of the very first award, Matt Oldfield beat off competition from popular shortlisted titles including Be Your Best Self by Danielle Brown MBE and 9-year-old Nathan Kai, who provide children with a kit for self-growth, success and happiness.
Matt does lots of work with schools and charities to get kids into reading through sport and supports our Premier League Primary Stars programme. He is also known for writing the Ultimate Football Heroes and Classic Football Heroes series with his brother Tom, which tell the life stories of the biggest and best footballers in the world, for ages 7-11.
I'm absolutely delighted to win this award, especially with so many other brilliant books on the shortlist. The late great Johan Cruyff once said, 'Football has to be fun for kids or it doesn't make sense', and I'm a firm believer that the same goes for reading too. With Unbelievable Football, our aim was to showcase the incredible range and power of sporting stories - to inspire, inform, entertain, and, above all, engage young readers. So thank you, this award is the perfect prize.

Matt Oldfield, winner of the Children's Sports Book of the Year Award
The Children's Sports Book of the Year award category was judged by a stellar panel of professionals from the children's education and entertainment industries including CBBC presenter Ben Shires (who recently took part in our second Premier League takeover of our Family Zone), BAFTA member and CBeebies presenter Pui Fan Lee, Agent at Bath Literary Agency and Co-Founder of Events of Wonder Gill McLay and Founder of The Book Activist Victoria Dilly.
Here's what Gill McLay and Victoria Dilly had to say about the brilliant books entered this year:
"I was really excited to be asked to judge the first Children's Sports Book of the Year Award. Ensuring books are accessible and engaging for everyone is so important. There is something very magical about when a child discovers the book that launches their reading journey. Sports books often create that exact moment. I hope this new award will highlight what's on offer and helps more children to discover the book that did it for them!"
Gill Mclay
"Encouraging children and young people to read through something they love, like sport, is really important and can make the difference between a child being a reader or not. I'm delighted to be part of an award shining a light on books that do just this, celebrating both sport and children's authors who have captured the imagination of their audience and brought sport to life for young readers. Matt's book is a brilliant example of why sport makes a great subject for a children's book - it's fun, engaging, full of fascinating facts and a real treat to read - you'll definitely discover some amazing things about the beautiful game you never knew! A well-deserved winner!"
Victoria Dilly
The Telegraph Sports Book Awards 2020 winners in full:
Telegraph Sports Book of the Year - Behind the Mask by Tyson Fury (Century)
Autobiography of the Year - Behind the Mask by Tyson Fury (Century)
Biography of the Year – Unbreakable by Richard Askwith (Vintage)
Children's Sports Book of the Year - Unbelievable Football by Matt Oldfield (Wren & Rook, an imprint of Hachette Children's Group)
The Heartaches Cricket Book of the Year - Cricket 2.0 by Tim Wigmore & Freddie Wilde (Polaris)
VAARU Cycling Book of the Year - The Yellow Jersey by Peter Cossins (Yellow Jersey Press)
CLOC Football Book of the Year - Ultra by Tobias Jones (Head of Zeus)
General Outstanding Sports Writing Award - Mind Games by Annie Vernon (Bloomsbury)
Illustrated Book of the Year - A Life Behind the Lens by Richard Pelham (Pitch Publishing)
Pinsent Masons International Autobiography of the Year - Godspeed by Casey Legler (Scribe)
Rugby Book of the Year - My Life and Rugby by Eddie Jones (Macmillan)
For more information about The Telegraph Sports Book Awards 2020, visit http://sportsbookawards.com/