We have partnered with the University of Birmingham to launch Birmingham Stories - a campaign to raise literacy levels for young people and adults across the city over the next decade.
On Friday 18 October, local role models launched the new campaign in front of 200 school pupils at the University of Birmingham School. The event opened with a speech from Preet Gill, MP for Edgbaston, about the importance of literacy in everyone's lives. The rest of the panel included Aston Villa footballer, Natalie Haigh, member of local singing sensation, Sons of Pitches, Joe Novelli, former Birmingham poet laureate and boxer, Matt Windle, and author and Senior Lecturer in Creative Writing, Ruth Gilligan.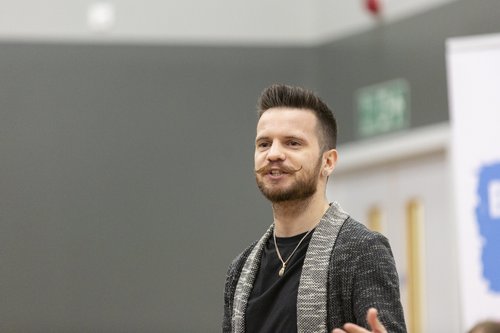 Each spoke to the pupils about their own lives and careers, and how stories, books and literacy have helped to get them where they are today. Matt Windle even performed a poem about his own life journey. Pupils then had the opportunity to ask questions to the panel, leading to some fantastic discussions before the event came to an exciting end when Natalie Haigh handed out free tickets to the Aston Villa v Sheffield United women's game on Saturday 19 October.
Birmingham is one of the most vulnerable areas to literacy challenges in the entire country, with 50% of wards in the city ranking in the top 10% of need in England, and 41% of young people in Birmingham failing to achieve good GCSE grades in English language and maths in 2018. Research shows that young people who leave school with low literacy skills are more likely to experience unemployment, poverty, poor health and even shorter lives as adults.
Birmingham Stories will build a movement across the city to address its literacy challenges through activities in schools, communities and adult learning services to encourage reading for pleasure and inspire people through storytelling. Activities already planned for the campaign include literacy training for teachers, a story writing competition, poets' visits to schools, and bringing the Narrative 4 'story exchange' model to Birmingham to help young people to understand themselves and one another better through the power of empathy.
The campaign will be informed by young people from local secondary schools, who will be invited to join an advisory panel to contribute their ideas and shape the campaign.
"It is so exciting to be bringing young people together from across the city to shape our campaign, and share stories with one another through activities like the story exchange and our story writing competition. By working together with schools, local businesses, adult education services and young people, we have a real opportunity to spread a love of storytelling in the city, raise aspirations, and open the door to a world of work and higher education opportunities for everyone involved in the campaign."

National Literacy Trust Chief Executive, Jonathan Douglas
---
Find out more about Birmingham Stories.